Men often feel perplexed when it comes to styling a polo shirt, especially because it can look too casual for any dressy occasion or simply too boring for anything else. But there's good news – it doesn't have to be as complicated as you think!
With the right accessories and fabrics, any man can make a classic polo shirt look ultra-stylish and fashionable within minutes. This post will take you through all the polo shirt styling options available so that you find one perfect polo shirt outfit that fits your style preferences and wardrobe needs.
Let's dive in and learn how to incorporate polo shirt combinations seamlessly into any man's wardrobe.
From Casual to Dressy: 7 Versatile Polo Shirt Outfit Combinations for Men
There are lots of creative ways to style a polo shirt to make a statement without sacrificing comfort. Here are top seven fashion-forward ideas to help you incorporate polo shirts into your everyday attire.
1. Dress Up Your Polo Shirt with a Blazer
For men looking to dress up their polo shirt, pairing it with a blazer or sport coat is an excellent styling choice. Blending a casual polo with the sophistication of a blazer will help create the perfect combination of comfort and class.
Whether you're dressed up for work or play, pairing different shades and colors can show off your fashion sense and creativity.
2. The Classic Combo: Tucked in Polo Shirt and Chinos
Styling a tucked in polo shirt with chinos is a great go-to look for men of all ages and styles. The combination uses classic pieces that never go out of fashion and can adapt to many scenarios. To get the look right, consider how you want the outfit to appear.
Smarten up the outfit by opting for slim fit chinos and tucking the polo shirt in in a neat fashion. Choose a color palette that works well together such as navy and light beige, then finish the outfit with more formal leather shoes such as brogues or loafers.
3. Classic Cotton Polo Shirt with Tailored Pants
For those men who have embraced a more laid back approach to dressing that still looks sharp, a classic cotton polo shirt with tailored pants is the perfect pairing. Select a polo shirt with subtle details and hue or design that works well with your look.
Opt for simple tailored pants in khaki, tan or navy and finish off the ensemble with comfortable shoes like loafers or lace-up trainers. When accessorizing, aim for minimal yet stylish additions like a watch or classic sunglasses to complete the look.
4. A Polished Look: Long Sleeve Polo Shirt with Denim Jeans
Men can instantly up their style game by choosing a timeless combo – long sleeve polo shirt with denim jeans. It looks simple and effortlessly stylish. For a truly pulled together appearance, opt for dark jeans with a subtle wash, simple sneakers or loafers, and pick a polo in either classic white or navy for that traditional style aura.
Go for slim fit designs rather than baggier silhouettes to give your look the modern edge that'll catch the eyes of others.
5. Knitted Polo Shirt with Trousers
The versatility of knitted polos mean that they can be easily styled with trousers for various occasions. For a smart-casual look, tuck in the polo shirt and pair it with a wide or pleated trouser. Choose tailored or slightly tapered styles to create a formal ensemble.
Keep your color palette neutral or go for something more bold – the possibilities are endless when accessorizing with a knitted polo shirt.
6. A Perfect Summer Combination: Polo Shirt and Shorts
The quintessential summer combination for men of all ages is a classic polo shirt with shorts. This look is perfect for any casual occasion – from backyard barbecues to beach trips – and it helps you stay comfortable and stylish at the same time. To perfectly wear a polo shirt with shorts, keep the shirt untucked, choose the shirt in solid or subtle pinstripes, pair it with tailored shorts in neutral tones like beige.
A pair of aviators, boat shoes and a sun hat complete this look and give you a timelessly sharp yet laid-back style that's perfect for summer days spent outdoors.
You can also read – What Color Shirts Goes With Gray Shorts?
7. Polo Shirt Under A Denim Jacket
If you are thinking of how to style an oversized polo shirt or a long sleeve polo, choose a classic zip-neck polo shirt. This is the perfect option for men to stay stylish regardless of the season. Whether you're attending a summer barbecue or bundling up for a winter's night, this timeless piece is sure to get you noticed.
For a truly stylish look, pair it with a denim jacket. Stand out from the crowd by choosing an iconic hip-length design and accessorizing with colors that match the hue of your denim.
Polo Shirt Dos and Don'ts
A polo shirt is a versatile garment that can be worn for almost any occasion. However, to style a polo shirt for men perfectly, here's a guide on the dos and don'ts of wearing a polo shirt. This will make styling one easy as pie.
Don'ts
When it comes to styling polo shirts, there are a few things that you should know.
To avoid looking outdated, steer clear of baggy-fitting shirts with long hems.
The wrong colors can also detract from the classic look of a polo shirt.
Do not ever tuck in a polo shirt for casual occasions.
Anything too bulky or flashy will ruin the effortless vibe and can make the whole outfit seem cheap.
By following these don'ts you can create a tasteful yet trendy vibe with your polo shirt.
Dos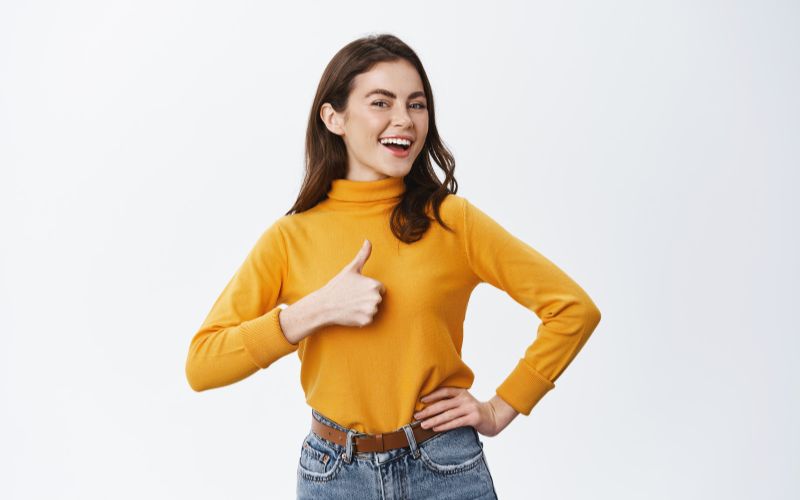 Polos are a staple in any man's wardrobe, providing versatility and an easy-to-style look.
For a classic and timeless look, choose a polo in muted colors such as navy blue or gray.
When it comes to fit, opt for something that is not too tight or too loose.
A modern fashion essential is to layer your polo with another shirt or t-shirt- try wearing the collar of your polo shirt outside of the other garment for a contemporary twist on classic menswear.
Accessorize with simple items such as highly polished dress shoes, a pair of sunglasses, or a leather belt to polish off your style.
With these few easy tips, you are sure to ace the art of styling a polo shirt.
Wrapping Up
Threading a few key pieces of wardrobe advice together can help you style any polo shirt for the modern man in a genuinely fashionable way.
With the above-discussed tips in mind, you should have no problem crafting an eye-catching look with your polo shirt.
So now there's no excuse not to step up your game and dress yourself stylishly in every situation.
FAQs About Men's Polo Shirt Outfits
Should Polo Shirts be buttoned up?
Yes, it is generally recommended that men button up their polo shirts. This helps ensure the shirt's classic fit and keeps the fabric from bunching or shifting when you move. Additionally, buttoning up your polo gives a more polished appearance that can take any look to the next level.
What type of pants go with Polo Shirts?
Polo shirts generally look best with straight-leg pants in neutral colors such as khaki, dark gray or navy blue. For the summer months, a lightweight fabric like cotton is ideal for comfort and breathability. If you want to dress up a bit more, try pairing your polo shirt with chinos or tailored trousers for a sophisticated look.
Is Polo Shirt formal or casual?
The polo shirt is a versatile clothing item that can be dressed up or down depending on the occasion. For example, for a casual event like a family gathering, a polo shirt could be paired with jeans or shorts. On the other hand, for more formal occasions such as job interviews or business meetings, it could be worn with dress pants and leather loafers to give the ensemble a professional look. In short, whether you style the polo shirt formally or casually depends entirely on how you pair it with other pieces of clothing.
What colors' Polos go best according to the skin tone?
Different colors of polos suit different skin tones. Cooler shades such as blues and purples look great on warm skin tones, while whites, creams and beiges are more flattering on cool skin tones. For neutral undertones, try a mix of warmer and cooler shades such as navy/white combos or dark greens paired with bright yellow hues – this creates an eye-catching contrast that shows off your natural colouration perfectly.
Are Polo Shirts supposed to be fit or baggy?
Polo shirts should be fitted, but not tight. A good fit will have a bit of room to move your arms and body comfortably. Choose a polo that fits close to the body without being snug. It should also fall straight from shoulder to hip for a more flattering fit.