First time I learned about French Crown brand on Shark Tank and I really liked the pitch given by their founders.
After watching Shark Tank episode, I did some research about French Crown brand and also placed order of Linen shirt for my husband. Based on my shopping experience, I decided to write a detailed review of French Crown.
Being in fashion industry since these many years, I am well aware about the challenges. Fashion industry is always on a roller-coaster ride, it becomes so uncertain about what's trending today and what's not. This uncertainty in fashion can lead you to make some wrong choices and big blunders in life.
French Crown proposes a solution to this problem by making custom-fit suits more approachable to everyone. French Crown came as a fresh wave of awareness with its exquisite menswear collection having more than 3000+ with customization facilities in Surat (Gujrat, India).
The additional benefit of doorstep delivery and free gifts along with products makes them a reliable brand. Built by two youngsters – Ilesh Ghevariya and Bhavdip Ghevariya, French Crown has variety and style in the perfect blend.
What is French Crown?
A leading menswear brand, French Crown holds about 1000+ units of suits and 500+ units of shirts. Along with the usual tailored fit suit, French Crown has everything which a man wants from premium shirts to boxers.
Founded by Bhavdip and Ilesh in the year 2016, French Crown suits are available in the market for around 84 different countries. Specializing in both custom and standard fitted clothing, French Crown suit accessories are also a big hit among custom-fitted suits.
With quality stitching and a plethora of modern techniques, French Crown brings out a masterpiece design when it comes to men's clothing. As per the recent French Crown brand review, you won't find such an astounding combination of reasonable price and top quality when it comes to men's wear.
Wide Range of Exclusive Collections
Everything a man could desire, from casual shirts and pants to a three-piece suit, French Crown has everything. Its collection varies from boxers, to dress shirts, suits of different designs and footwear collections.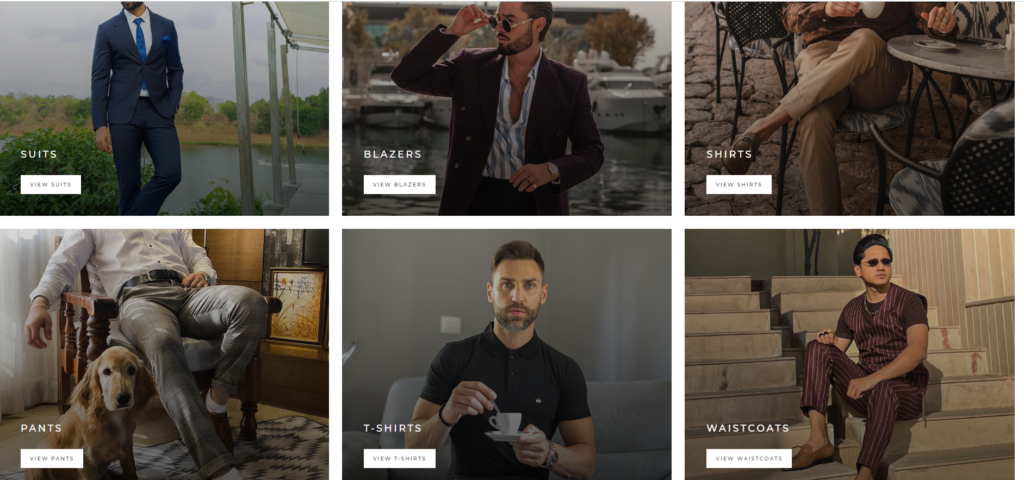 French Crown have clothes from XS to 5XL sizes, which includes plus size and tall men customized clothes with proper fittings.
French Crown as a brand specifically focuses on details. Well-induced with the concept of fashion merging with fine lines, French Crown makes men look sharp at all times.
No matter what the occasion is, you will find every product, whether it's a French Crown Tuxedo or simple plain boxers, to be manufactured and designed with detailing and trend-setting.
Latest Designs & Color Ranges
Visiting French Crown's official website will help you identify what's the ongoing trend in the present time. Giving the usual fashion cliches a new definition, the French Crown suits provide a combination of pocket-friendly prices and exquisite design.
Ongoing latest design as per the French Crown suit review is the introduction of unique color and patterns like Jade Black, Havana Wine, Eclipse Gray, gingham checkered, Ditzy pattern, etc, French Crown has been dabbing in manifesting designs that are an exquisite mix of old and new.
With their products, you will be able to explore fashion labels in all sizes as they sell sizes upto 5XL.
My Experience with French Crown Clothes
Finding the right outfit that is form-fitting and perfect for the specific occasion can be exhausting. This is the one aspect of dressing up that used to make me scream inside my head from frustration.
After checking out the French Crown brand review, I checked out their collection and was immediately excited by the many prospects. The availability of French Crown Suits and Shirts in different designs and patterns gave me the one thing most men's clothing sites lack, i.e. variety of options. They sell over 3000+ SKUs of the latest collection that helped me to find my style for the season.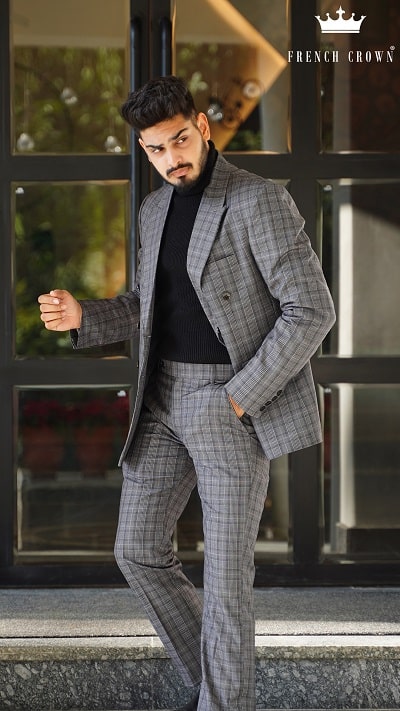 And the best part was they were able to customize the products as per the size requirements. I was surprised to see the suit of 5XL size with proper fittings and in the best price. The fabrics used in the suit was looking premium and luxurious, wearing it I was feeling so confident and sharp.
1. Suits Jacket Detailing
From suit jackets to trench coats, the men's upper wear section at French Crown is an eye-opener. The fine line of details placed in manufacturing each piece makes the wearer stand out in a crowd. Made with premium fabrics, jackets are available with zipper closures and mandarin collars.
You can dress for a board meeting in long trench coats, for a festive event in Indian Nehru Jackets and bandh gala designer suit jackets, or for a good day out in Bomber Jackets. As per the season, Giza cotton and Twill fabrics are mostly preferred while designing jackets.
Long staples and flat felled sides in the French Crown's Jackets make them an absolute addition to every man's wardrobe.
What Other Customers Says About French Crown Suit Jacket?
"I love the products ~ high quality suits. I had to exchange one, and the customer service was outstanding! My new favorite place to shop for gifts."

Talakola Venkateshwar Reddy
"Nice color, soft fabric, high quality! Will def order more and a great at any price. Here, the price is just a bonus. I thought it would be thin and cheap fabric but its actually a super solid suit. The material is exactly what I wanted..breathable and cool."

M S SHIVAYOGI
2. Pants Detailing
In need of plaid checkered pants for an interview or textured pants for a CEO-type look, French Crown Pants fit all expectations. The soft material, different color ranges, and form-fitting design make them the best go-to website for shopping.
No matter the waist size, French Crown provides a service of customization on all their pants from premium cotton ones to wool-rich pants.
Unusual colors like Fawn Brown and Mulled Wine Blue are present in the pants section, giving the collection a unique touch for fashion lovers.
Customer Reviews on French Crown Pants
"These french crown pants are perfect fit.I got these hoping they would fit well and would be comfortable. I have to say these pants met both of these criteria. The next issue was whether they would come out of the dryer all crumpled up. They looked great right out of the dryer. I was so happy with these that I ordered a few more pair. These will be the pants I buy for a little while. I really like them."

Vijay Pal
"Great looking pants. Bought my usual size, and I'm pleased. The waist is just a correct of the slim fit, creating really nice lines. The length is excellent. Just a great in the fabric. I have them in grey and blue so far."

Kalim Khan
3. Shirts Detailing
Both formal and casual shirts are available in the French Crown shirts collection. From poplin fabric to luxurious linen, the shirts in their collection are designed to be comfortable and stylish in a single concoction.
Available in different collar shapes and sizes, one can find all kinds of outfit styles in their collection. Formal, Semi-Formal, and Casual, you name it, French Crown Shirt Collection has it.
With unique aesthetic impressions, the texture of shirts varies based on the material they are made of.
What Customers Has to Say About French Crown Shirts?
"I bought a shirt for my mom's surprise birthday party and let me just say that it was perfect if fit just like I wanted, great quality and stylish I would definitely buy more of this style shirt in multiple colors what a great find!!!"

Suresh Hiremath
"I have not found anything wrong yet. The shirt fits well and is wrinkle free. Seems to be well made & the colors look great. Washed with other whites and tumbled dry and it was completely wrinkle free coming out of the dryer. Win!!!"

Mahesh Chowhan
4. Tie & Accessories Detailing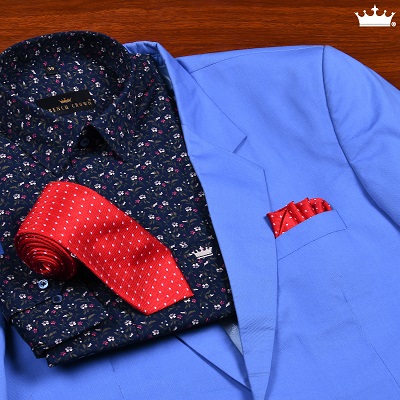 No look is complete without adding fashion accessories into the mix. Either a gorgeous tie that goes perfectly well with the color combination of a French Crown suit or a belt to highlight the shades of the shirt worn. Different types of ties are available with pocket squares to complete the gentleman's look with a finesse touch. Cufflinks are available in different designs and patterns to redefine luxury. And to top it all off, the BallPoint Pen collection at French Crown is to die for.
 "Color was as pictured. Price was great. this Mandy Red dotted combo pack from French Crown. The beautiful circular and dotted texture of this tie when paired with a dark color suit will Attract some attention to your attire.. Nice material and not hard to tie. I needed a tie for a wedding last minute and this was perfect."

Anilkumar Suryavamshi
5. Shoes & Socks Detailing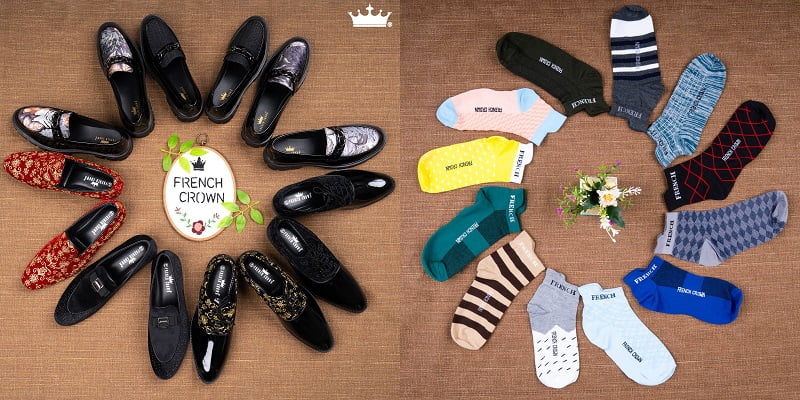 The French Crown footwear collection derives shoes and socks filtering different looks a man can possess. For casual outings, Chelsea Boots and Slides are present in pristine color options. French Crown footwear collections are made up of vegan leather and eco-friendly materials.
Formal outfits require footwear with defining tastes and a classic look. Loafers, Moccasins, and Oxford Shoes are the best boots collections a man should choose based on the occasion of the formal event. Socks of different colors and sizes, both long-length and ankle length, are present to be bought as per the customer's preference.
"I am a picky shopper when it comes to my shoes and clothing. I was not disappointed with these shoes. The advertised size and color/style fit my needs very well, I liked it so well that I bought another of the same shoe in brown. It's nice to have people compliment me about them. At any Marriage ceremony, wear it with a solid shirt or Traditional Kurta and a pair of solid formal pants to turn attention."

Nagendra prasad babu Teliki
"Great price and great quality. Got these for golf and they are perfect. Vibrant colors, very comfortable, and super breathable. Great patterns and great length. They fit. They feel good. They cost way less. They look great and my feet are happy."

PINAKI RANJANDAS
My Overall Thoughts on French Crown
The one thing that attracted my attention towards French Crown is the color variations in their latest collection. Color ranges such as Havana Wine and Gunmetal Blue were a fresh change from the common options found in menswear.
Along with pocket-friendly prices and coupon codes, their products are available for men of all sizes and body structures. They give better discount prices by offering two french crown coupon codes – BUY2 & BUY3, 10% off & 15% off respectively.
Most of the French Crown reviews I came across were focused on the exquisite quality of the material and fine detail.
Frequently Asked Questions About French Crown
Is French Crown a Good Brand?
French Crown products are made by expert tailoring, and their quick response team is always there to help you with sizes and availability. Nevertheless, in case your size doesn't match your requirement, their  replacement service will replace your product with your matching size within a short span of time.
Is French Crown Good Quality?
Along with detailing and style, the one other thing the French Crown does not compromise with is quality. Fine lines and premium quality fabric makes them suitable for long-duration wear.
What Type of Suits are Available in the French Crown?
Whatever the men's preference, a Tuxedo for your special day or a Three-Piece Suit for a board meeting, the French Crown Suit collection has it in abundance. The new arrivals with the latest trendy designs and prints make it perfect for all occasions.
What Type of Shirts are Available in French Crown?
Cotton, Flannel, linen, or checkered, the French Crown Shirt collection can be defined in one word, i.e. variety. Spend a warm summer day in flannel shirts or rock the interview with premium cotton shirts.