When it comes to the world of men's fashion, few occasions are as enjoyable to dress for as a Sunday brunch. It's a time when you can showcase your personal style while enjoying delicious food and great company. However, finding the perfect brunch attire for men can be a bit challenging, as you want to look stylish without sacrificing comfort.
So let us help you figure out a variety of brunch outfit ideas and fashion tips that will help you strike the ideal balance between style and ease.
18 Brunch Outfits (Ideas & Tips) for Men
1. Brunch Attire Basic for Men
When it comes to crafting the perfect brunch outfit, it's essential to start with the basics. First and foremost, comfort is key. Brunch is all about relaxation and enjoying good food, so choose clothing that allows you to move freely and feel at ease. Consider breathable fabrics like cotton and well-fitted pieces that don't constrict your movement. Also, take into account the venue and the season when making your choices. Lastly, don't forget to factor in the weather – light and breathable fabrics for summer brunches and layering for those chilly winter mornings.
2. Casual Men's Brunch Outfits
For a laid-back brunch, a casual outfit is your go-to choice. Start with a well-fitted T-shirt; it's comfortable and versatile. Opt for solid colors or subtle patterns to keep it simple yet stylish. When it comes to bottoms, you have options. Tailored shorts are perfect for warmer days, or you can go with jeans for a slightly cooler vibe. To complete the look, choose comfortable sneakers or stylish sandals. Accessories should be minimal, so a classic watch or a leather bracelet can add that extra touch of flair without being too flashy.
Also Read: How To Style an Oversized T-shirt
3. Smart Casual Brunch Outfits for Men
If you're headed to a more upscale brunch venue or just want to make a great impression, the smart-casual look is your best friend. Begin with a crisp button-down shirt, ideally in a solid color or a subtle pattern. Tucking it in instantly elevates your appearance. Pair the shirt with well-fitted chinos or dark jeans – they exude refinement compared to shorts or lighter denim. When it comes to footwear, opt for dress shoes like loafers or brogues, as they add a touch of sophistication to your ensemble. And for that final touch of class, consider adding a blazer. A well-fitted blazer instantly boosts your smart-casual brunch outfit, giving you a polished and confident look that's perfect for upscale brunch venues or when you simply want to stand out.
Also Read: Button-Up vs Button-Down Shirts
4. Summer Brunch Outfits for Men
Summer brunches call for light and breezy attire that keeps you cool while looking sharp. Start with a linen shirt – it's comfortable and stylish, perfect for those warm mornings. Light-colored shirts in pastels or classic white are ideal choices. Pair your shirt with tailored shorts in a complementary color, ensuring they're well-fitted without being too tight. To complete the summer look, go for boat shoes or espadrilles – they're not only comfortable but also on-trend for the season. Don't forget your sunglasses to shield your eyes from the sun.
5. Brunch Outfits for Men in Winter
Dressing for a winter brunch requires a bit more thought on layering and warmth. Start with a cozy crewneck sweater in a classic color like navy or charcoal. It keeps you warm while looking sharp. Layer a collared shirt underneath for added style and warmth, letting the collar and cuffs peek out for a fashionable touch. Stick with dark jeans or trousers, which pair well with the rest of your ensemble. Opt for leather boots or chukkas to keep your feet warm and dry. These boots also add a touch of rugged elegance to your winter brunch look. Layering is key here, so consider adding a stylish scarf or a warm overcoat for extra coziness and style
6. Men's Brunch Fashion Tips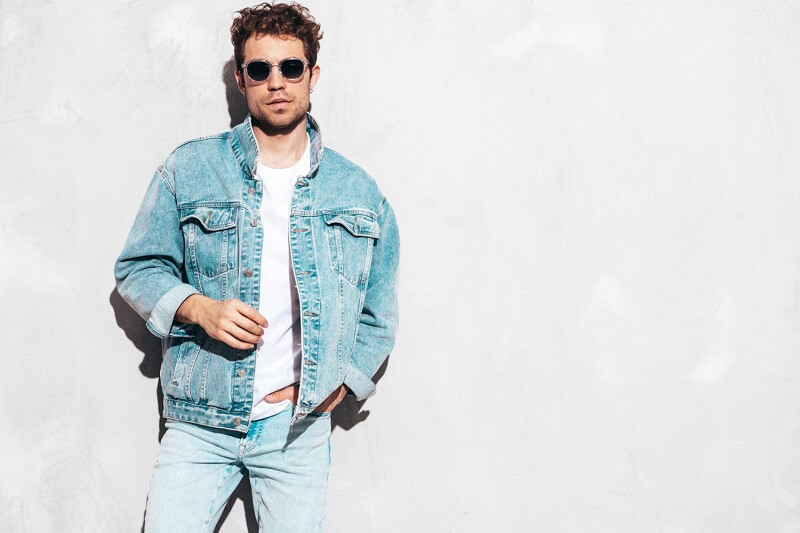 Now that you've got your brunch outfit ideas sorted, let's delve into some fashion tips to help you look your best. First, don't be afraid to roll up your sleeves. Tucking in your shirt, especially for smart casual or formal attire, can give you a more polished appearance. Accessories are the icing on the cake, so consider adding a stylish watch, a leather bracelet, or a pocket square to inject personality into your brunch outfit. And last but not least, grooming matters. Ensure your hair is appropriately styled, whether it's a classic haircut or a well-groomed beard; it can enhance your overall appearance and boost your confidence.
7. Men's Brunch Footwear
Selecting the right footwear is crucial to complete your brunch outfit. Loafers are a versatile choice that works well with both casual and smart-casual brunch attire. Moccasins, which are comfortable and stylish, are an excellent option for a relaxed brunch look. Clean white sneakers are perfect for adding a touch of freshness to your outfit, especially for casual brunch gatherings. And for a more rugged and stylish appearance, consider leather boots or chukkas for your winter brunch ensemble. These boots not only keep your feet warm and dry but also add a touch of rugged elegance to your winter brunch look.
Also Read: The Top 9 Men's Prom Shoes for Every Style

Also Read : 8 Tips to Match Grey Pants And Brown Shoes for Men
8. Brunch Outfit for Men with Shorts
If shorts are your go-to choice, you can still create a stylish brunch ensemble. Start with a lightweight button-down shirt with short sleeves for a cool and casual look. Well-fitted shorts, hitting just above the knee, are the way to go. Avoid overly baggy styles for a more put-together appearance. Complete your shorts outfit with comfortable yet stylish shoes, such as loafers or clean white sneakers. These shoes provide both comfort and style, ensuring you're ready for a relaxed brunch gathering. Accessories can be minimal for this look, with a classic watch or a leather bracelet to add that subtle touch of flair.
Also Read : 8 Gray Shorts Outfit Ideas for Men
9. Accessories for Men's Brunch Outfit
Accessories are the finishing touches that can elevate your brunch look. Start with a stylish watch—it's a classic piece that adds sophistication to your ensemble while serving a practical purpose. A well-crafted leather belt not only keeps your pants in place but also adds a touch of elegance to your outfit. If you're wearing a blazer, consider adding a pocket square in a coordinating color or pattern. It's a dapper touch that completes your look and shows attention to detail.
Also Read: How to Choose a Watch For Your Wrist Size?
10. Brunch Outfit for Men with Blazer
Adding a blazer to your brunch attire can instantly elevate your look. Start with a well-fitted dress shirt in a solid color or a subtle pattern. Tuck it in for a polished appearance, and make sure it complements the color of your blazer. Pair your shirt with slim-fit trousers in a complementary color to your blazer. Slim-fit trousers provide a sleek and modern look that matches the sophistication of the blazer. When it comes to footwear, leather loafers exude elegance and style, making them a perfect choice for your blazer ensemble.
11. Brunch Outfit for Men with Denim
Denim is a versatile choice for brunch attire, offering both style and comfort. Start with a well-fitted denim shirt in a classic blue or black hue. It's a versatile piece that can be dressed up or down. Pair your denim shirt with dark jeans for a cohesive denim-on-denim ensemble. Dark jeans provide a clean and polished look, making them perfect for brunch. For footwear, consider desert boots or clean sneakers– they strike a balance between comfort and style, enhancing your overall appearance. Denim brunch outfits are effortlessly cool and stylish and ideal for casual gatherings and trendy brunch spots.
12. Men's Brunch Hairstyle
Your hairstyle plays a significant role in your overall appearance, so don't overlook it when planning your brunch outfit. Whether you prefer a classic crew cut, a trendy pompadour, or something in between, make sure your hair is well-groomed and neatly styled. A neat haircut enhances your overall look and exudes confidence. If you have facial hair, ensure it's well-maintained and complements your chosen hairstyle. A well-groomed beard or clean-shaven appearance can make a substantial difference in your overall appearance and help you look your best for brunch.
Also Read: 12 Two Strand Twist Hairstyle for Men
13. Brunch Outfit Colors for Men
The choice of colors for your brunch outfit can significantly impact your overall style. In the summer, opt for light and bright colors like pastels and whites. These shades match the cheerful atmosphere of summer brunches and help you stay cool in the sun. For fall and winter brunches, gravitate toward earthy or deeper tones like burgundy, navy, and forest green. These colors align with the season's aesthetics and create a warm and inviting look. By choosing the right colors for your brunch attire, you can enhance your overall style and make a memorable impression at any brunch gathering.
14. Casual Men's Brunch Wear
For those who prefer relaxed and casual brunch attire, there are plenty of options to consider. Start with a graphic tee – it's a great way to showcase your personality and interests. Choose a well-designed graphic tee that reflects your unique style. Distressed jeans embrace the latest fashion trends for a laid-back and effortlessly cool look. The distressed detailing adds a touch of rugged charm to your brunch ensemble. Slip-on sneakers are both comfortable and stylish, making them an excellent choice for a relaxed brunch outfit. They're easy to wear and provide a laid-back vibe that suits casual brunch gatherings. Keep it relaxed yet stylish with these casual brunch wear essentials.
15. Brunch Outfit for Men with Sneakers
Sneakers can be a fantastic choice for a sporty and comfortable brunch outfit. Start with chinos or jeans for the bottom half of your ensemble, depending on your preference. Chinos offer a slightly more dressed-up look, while jeans provide a more casual appearance. Pair your chosen bottoms with a casual shirt, such as a Henley or a button-down. These shirts provide comfort and style, creating a balanced brunch outfit. For footwear, clean white sneakers are the way to go. They add a touch of freshness to your look while ensuring comfort throughout your brunch gathering. Whether you're headed to a casual brunch spot or a sports bar, sneakers can keep you looking stylish and feeling relaxed.
16. Brunch Outfit for Men with Ties
If you want to add a touch of formality and elegance to your brunch attire, consider wearing a tie. Start with a well-tailored suit in a classic color like navy or gray. Ensure the suit fits perfectly to exude confidence and sophistication. Pair your suit with elegant dress shoes, such as oxfords or brogues, to complete your dapper brunch ensemble. The choice of tie can vary based on your personal style and the occasion. Opt for a traditional silk tie for a classic look, or choose a more modern slim tie for a contemporary appearance. Wearing a tie for brunch shows attention to detail and can make you stand out, whether you're brunching at an upscale restaurant or celebrating a special occasion.
17. Brunch Outfit for Men with Hats
Hats can be a stylish addition to your brunch look, especially on sunny days. Start with a stylish fedora – it adds a touch of sophistication to your outfit while providing sun protection. Choose a fedora in a color that complements your brunch attire for a cohesive look. A baseball cap is an excellent choice for a sporty and casual brunch outfit. Opt for a cap with a clean design and minimal branding to keep the look relaxed. Whether you prefer a classic fedora or a casual baseball cap, adding a hat to your brunch ensemble can enhance your style and protect you from the sun's rays.
18. Brunch Outfit for Men with Sunglasses
Sunglasses are both practical and stylish, making them an essential accessory for your brunch outfit. Start by considering your face shape when choosing the right pair of sunglasses. Select sunglasses that complement your face shape for a flattering look that enhances your overall appearance. Ensure that your sunglasses provide adequate UV protection to shield your eyes from the sun's harmful rays. Style-wise, choose sunglasses that match your overall brunch attire, whether it's classic aviators, wayfarers, or something more unique. Sunglasses not only protect your eyes but also add a cool factor to your brunch ensemble, making them a valuable addition to your outfit.
The Final Word
Whether you're attending a casual gathering or a more formal brunch affair, there are countless outfit combinations and accessories to help you express your personal style. Remember to consider the venue, season, and your comfort when selecting your attire. By following these brunch outfit ideas and fashion tips, you'll always be well-prepared to make a fashionable statement at any brunch gathering. So, embrace your inner style guru and enjoy brunching in both comfort and sophistication.