Well, you have landed on the right page. This piece of information will help you decide on the Prom Night Style Shoes to impress everyone at the party.
A promenade dance, simply Prom is the most awaited dance party at a school or college, held for final year scholars. It's a chance for juniors and seniors to get along while enjoying fun activities, dancing and showing their inherit talent.
A Prom Night is all about adorning yourself in the best dress, clicking a plethora of pictures, relishing the good food and making memories. But what highlight a Prom Night are the dance performances. Of course, to dance well, you need comfortable shoes and to impress, you need the chic ones as well.
Let's Take a Look at The Best Prom Shoes for Men
1. Warren Man-Made Leather Tassels Loafers Shoes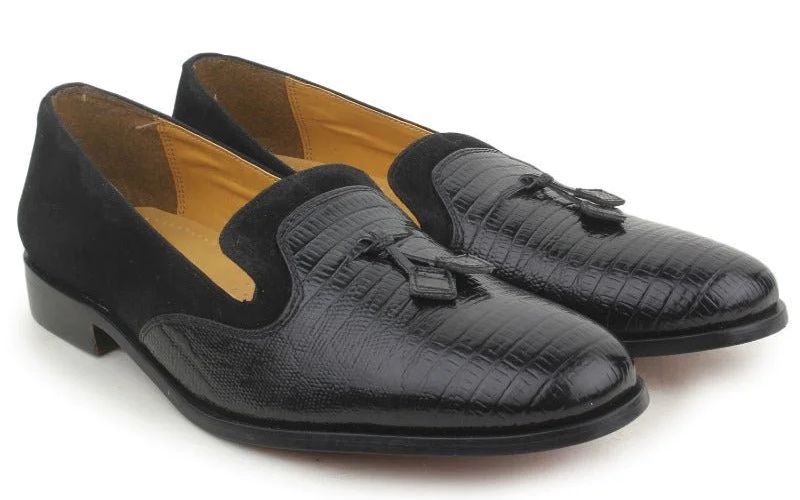 These are a must-have shoe for men with a modish look. These Tassel Loafers shoes could the best picks for prom night. Having the man-made sole gives these shoes better durability than others.
These Lizard print and round toe slip-ons with decorative leather laces hanging from the vamp are the right choices for indoor and outdoor parties and events.
2. Reno Man-Made Leather Slip-On Tassels Shoes
As a unique example of premium workmanship, these good-looking pairs of shoes go well with any kind of suit. These "easy to wear and remove" pieces could be a perfect match with your prom night attire.
The rubber sole gives you comfort and a strong grip to let you have an enjoyable prom night dance experience. These Beige coloured shoes can get you all your eyes.
3. ElanRoman Men's Loafers Dress Shoes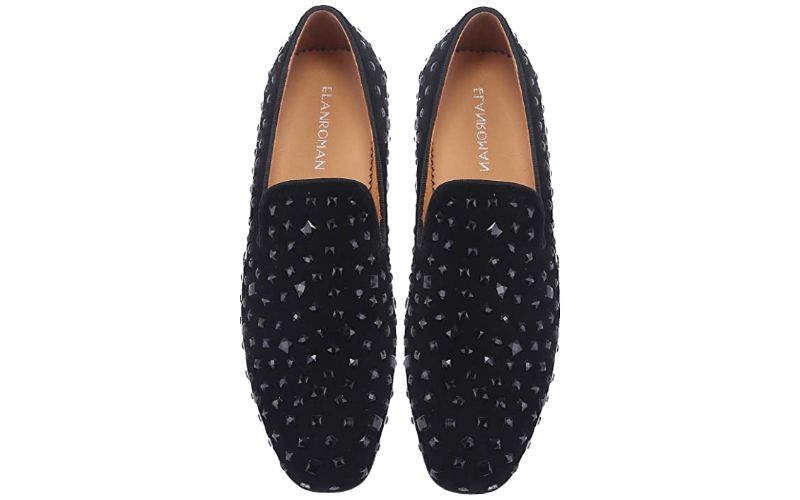 Super chic yet cosy, these Velvet shoes make you stand out from the crowd with their clean-cut look. It comes in drilling patterns and suede leather uppers with foldable rubber soles.
The foam insole gives you much-needed comfort while you dance to impress. The Copper Buckle with Golden finish gives you the Royal look at prom night.
4. Debonair Genuine Leather Oxford Style Dress Shoes
Do you love Brown? Here is your perfect pick for prom night. These traditional laced up low-heeled shoes have sturdy leather uppers. The Oxford style leather shoes with brogue design and perforated trims are elegant yet eye-catching.
Alternatively, you can also wear them as formals. Why choose Black, Grey and Beige, when you have Brown to amaze. Oxford shoes guide will help you choose right option for you.
5. Bruno Marc Men's Loafers Prom Dress Shoes
No matter what colour suit you are wearing for the prom; these shoes are available in black, black-pat, brown and dark brown shades. The sleek uppers feature a slip-on design with a metal bit of detail.
The comfort offered by its modest heel size is unparalleled. With a flexible and durable PVC outsole, you will not find any better prom shoe options.
6. Ferucci Men Gold Spikes Dress Shoes
These fashionable, ultra-modern shoes have an appealing sense. The one-inch hill and closure pull-on makes them comfy for you. The leather and rubber sole make them easy to wear for a longer time.
The velvet used is of the finest quality and the hand-stitching makes them look special in the crowd. Gold Spikes give you a royal look.
7. Jitai Men's Prom Party Shoes
These lightweight rubber sole creations are a good prom night choice. They can also be worn as daily wear shoes to the office and parties. These are slip-on loafers with a unique tassel design.
Crafted with faux leather fabric, the inner padding is comfy and breathable, and the shoe pad is soft. It comes in the shades of Black, Brown and White
8. Enzo Romeo Men's Vintage Dress Shoes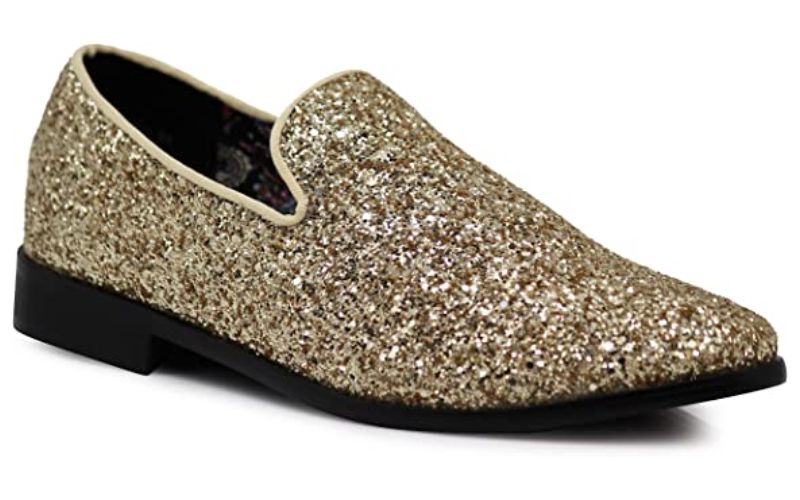 Want that unique glittery look for your prom night, these vintage shoes are then for you. The enchanting glittery colours make it a great option for flashy parties and prom nights.
These polyester shoes, unlike leather ones, come in great colour choices like black, silver, red, gold, royal blue and brown. Pick these Pull-On Shoes for an unforgettable look.
9. Jitai Men's Luxury Prom Loafers
You may end up your search for prom night men's shoes after having a look at this vintage embroidery design, decent stylishness, velvet upper, rubber sole shoes. These slip-ons have a complete leather insole to keep feet dry and comfortable.
The soft and light-weighted shoes reflect your true Gentlemen's choice. They are super fine to be worn as formals as well.
Tips to Choose Shoes for Prom
Confused about how should you choose your prom shoes? Here is a quick guide for you to not regret your decision. There is nothing more important than feeling the 'comfort' in your shoes.
This comes with just the perfect size; a size bigger or smaller may spoil your prom night as it will not allow you to dance your heart out.
1. Choose Color Wisely
The color of your shoes should go with your dress. Mostly shoes are worn in contrast to pants. Sometimes you may not get the perfect color match owing to different materials of suit and shoes.
Worry not! In that case, go for versatile black or brown shoe color choices. Too light or too dark shoes may spoil the overall look.
READ ALSO: 10 Stylish Formal Shirts and Pants Color Combinations for Men in 2022
2. Select Proper Design
Choosing the appropriate design is of extreme importance. The selected design for prom night will match your outfit which reflect your personality. Any inappropriate design will make the centre of attraction for a negative cause.
Also, take a look at the material and fabric of the shoe before buying.
3. Should Be Comfortable To Your Feet
Please check before buying that the shoe material should cause a shoe bite on the first wear. Your shoe should support the alignment of your foot when it touches the surface.
The midsole is the foremost part of the shoe that offers to cushion. Put a check on the above-mentioned things to check the comfort.
4. Make Sure About Perfect Fit
Ensure you have at least 1‒1.5 cms at the end of the shoe. It should be sufficiently wide and long enough to fit your feet. The shoe should feel cosy but not tight.
Too loose or even too tight shoes are of no use. Rather the unfit or misfit shoes make you bumpy wherever you go.
5. Double Check On Heels
Check on your shoes' heel length too. If you are not comfortable in high heels, avoid them. Be assured the shoes grasp your heel.
Your heel should not slip in the shoes when you move. Check for the heel cups; they are known to lessen pain under the heel.
Summing Up
This celebrating event of your life marking a new beginning should not go wrong anyway at least not because of the prom shoes you select for yourself.
After all; shoes speak louder than words sometimes.
Wish you all the best for selecting the best Prom Night Style Shoes and the Prom Night as well.
FAQs about Prom Shoes
What are guys wearing to prom to match with dress shoes?
Guys can wear suits in black, gray, or any other neutral tone with a simple matte finish tie. Pick the suit color that matches the color of the dress shoes. They can also wear formal dress shirts and trousers with matching dress shoes.
What types of shoes to avoid at prom parties?
Shoes with an imperfect fit and uncomfortable feel should be avoided at prom parties. If you are not comfortable with heels, do not wear shoes with heels just because they look trendy and go well with your outfit. If you are maintaining a contrast between your outfit and shoes, do not pick shoes in a too dark or too light color. It will spoil your overall look.