Valentine's Day is just round the corner. And are you the one, who gets nail-biting jitters when it comes to choosing Valentine's Day outfit ideas to suit your mood as well as the fervor of the day?
Then this piece that I have combined for you, as per the global fashion in vogue, is your ultimate guide!
After reading this post, you won't find it difficult to select the ideal valentines day outfits women would want to flaunt this year and beyond. Our article offers the greatest selection of clothing combinations to make your Valentine's Day extra memorable, whether you've chosen to relax or go a bit wacky this year.
Stylish Valentine's Day Outfit Ideas For Women
So here is a rundown of formal as well as casual valentine's day outfits for the VALENTINE'S DAY in 2023 and beyond!
1. Sweetheart Neckline Pink Floral Midi Dress
Pink is by far the most popular hue to depict feminine nature of any and every Valentine's Day outfit idea. A pink flowery dress with a sweetheart neckline is appropriate.
This outfit is really simple to decorate with silver or gold jewelry. Maintain a natural makeup look and give your hair beach waves.
2. Leather Skirt With A Coral Color Button Down Collar Shirt
The color coral isn't the easiest to style. However, you can achieve success if you use the appropriate mix.
First, pick a shirt with printing. If you aren't pairing it with anything else, avoid wearing a simple button-down shirt. It's not a good idea to wear a crossbody purse with this outfit. Pick a designer handbag in its place.
This outfit is really simple to decorate with silver or gold jewelry and with a pair of polymer clay earrings. Maintain a natural makeup look and give your hair beach waves. That's it!
3. Sleeper Cosmos Metallic Stretch Lounge Set
Nothing adds a wiggle to your stride like a little shine to the Valentine's Day outfits. Stretch-Lurex was used in its construction, and the fitted silhouette blurs the boundary between casual and sophisticated chic, making it the perfect suit for going from doing your grocery shopping to dancing with the gang.
Make a statement by donning the ensemble head to toe with your go-to shoes – a matching pair of sneakers.
4. Kimberly Goldson Koko Vegan Leather Midi Dress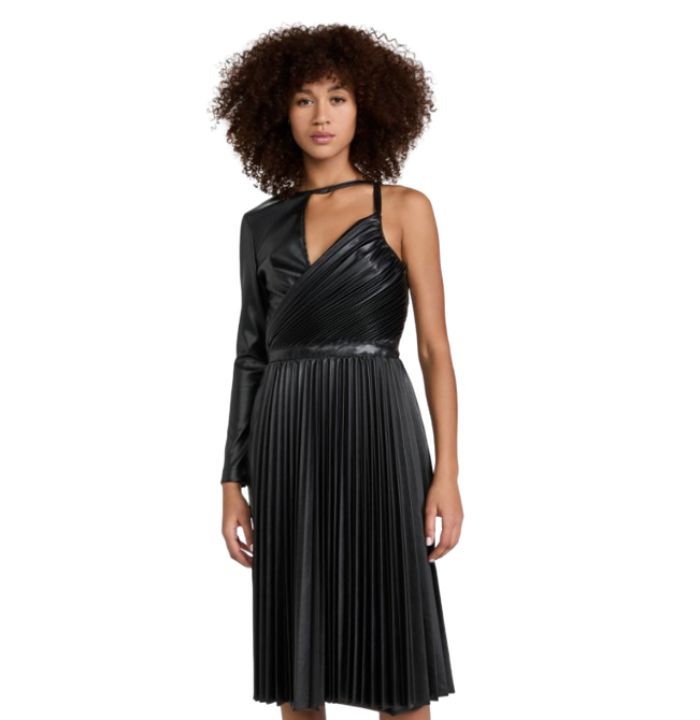 This little beauty of a cute valentine's day dress, will become your go-to not just for the Valentines day but for winter weddings, dates with your BAE, business excursions, and more thanks to its pleated skirt, unconventional corset, and contemporary leather-look fabric.
Pick this cute valentine's day outfit, and you will thank us over many years to come.
5. Aje Le Mempris Cut Out Ring Flip Mini Dress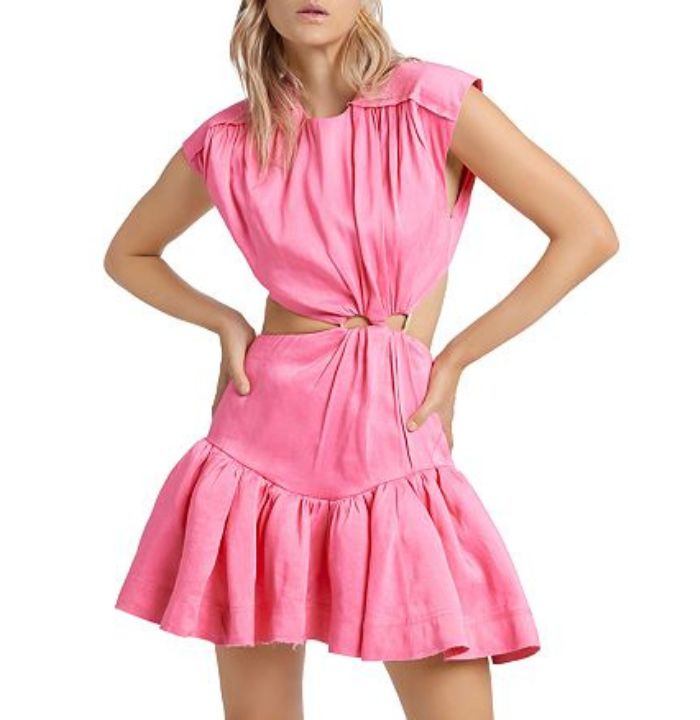 By far, among the most favored dresses for valentine's day dinner. This hot pink short dress' cutout feature displays a lovely glimpse of midriff.
Since Valentine's Day outfit ideas are by nature glamorous, it's simple to put together a standout appearance with little effort via this piece of clothing which oozes elegance from the word go!
Pair this valentine's day dress with opulent statement earrings and casual metallic shoes.
6. Magenta Faux Fur Coat And Black Top With Plaid Skirt
A plaid miniskirt looks excellent with a white basic black shirt.
Stockings are appropriate underwear.
The perfect footwear for this outfit are chunky leather boots and some other stylish winter boots like heeled boots.
Black makes any bag easy to handle.
Lastly, add a magenta fake fur coat to complete the ensemble. Don't forget to add a simple gold/golden chain and elegant ear-rings to the ensemble as accessories.
7. Turtleneck Shirt And Skirt With Red Stocking And Red Beret
If you wish to dress up head-to-toe in the primary color of Valentine's Day, then this turtle neck outfit style is your go to elegant outfit.
But remember to complete the look without any jewelry and a small back handbag along with ankle length boots.
8. Red Button Down Silk Shirt With Black Jeans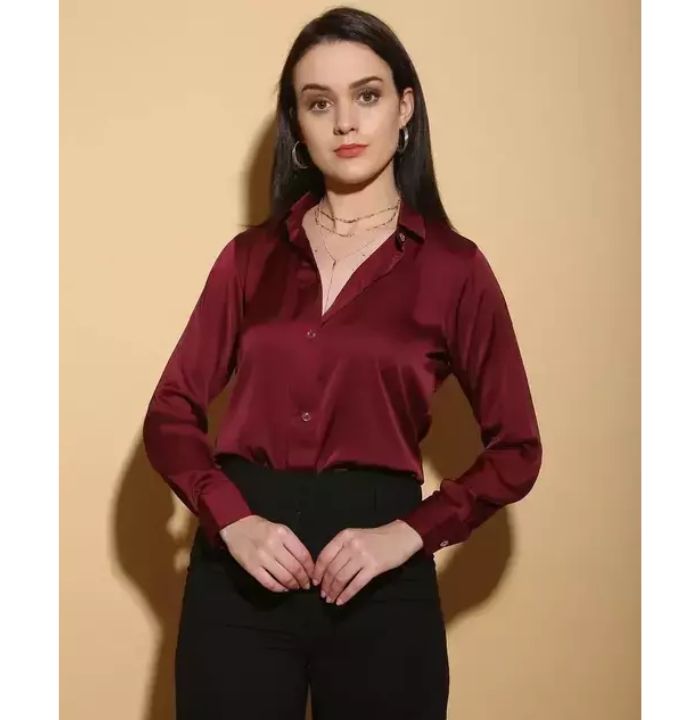 Black and red are the ultimate colors that gel like no other. And this outfit will get you an ultra sophisticated look, just in case you want the heads turn at a Valentine's day gathering.
Wear red stilettos if you are comfortable in heels or go for red boots to complete the look.
The advantage of this cute valentine's day outfit – you can create matching valentines day outfits for couples.
9. Leather Jacket And Red Sleeveless Top With Black Leather Pants
An ultra-chic outfit for the modern day women, who wish to flaunt those toned abs!
Why not add a pair of leather ankle boots in red to your outfit if you want to rapidly spruce it up with one piece? Deck this up and thank us later!
10. White Corset Top And Mini Skirt
If your side of the world has moved into the warmth of the spring, then this one's your go to outfit. Finish the look with the flawless party sandal.
A heightened stiletto boot or even a striking, glittering heel are ideal options to tidy up that perfect look of the cute valentine's day outfit.
11. Pink Satin Spaghetti Strap Long Slit Evening Gown
I love to wear this as those go to dresses for valentine's day dinner, due to their sheer comfort, whether walking hand-in-hand pre dinner or dancing into the night with my man!
Any event will be remembered for the magenta spaghetti strap gown, whether it is a casual valentine's day outfit or can pass off even as the formal wear or it can be also worn as a date night outfit – just the matter of changing the shoes and restyling the hair!
You can try out different types of perms to keep the hair open and wavy.
12. Mini Dress with Bomber Jacket and Sling Bag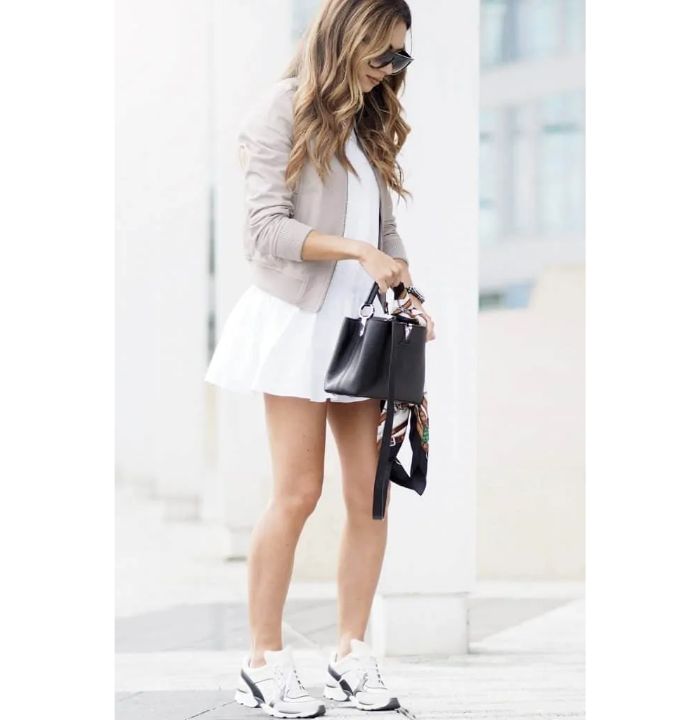 These out of the various Valentine's Day outfit ideas, is for those women who have the flair to mix contemporary with the conventional, to try elegance with that oomph!
A pair of ankle-length boots in colors either matching the jacket or the sling bag would look great.
Talking of colors – the dress could be red or pink, with the jacket being in any range from shimmers, to black to plain white with some embellishments matching the color of the dress.
13. Floral Velvet Blazer
If you have that min-dress or tank top-jeans or for that matter any other valentines day outfit already at home, then pick up this stylish blazer for sure.
It would not only keep you warm in the receding winter if your Valentine's date lasts beyond the day, but also add that flair of looking different from others.
It also adds the glam-quotient to the dresses for valentine's day dinner.
14. Open-Front Poncho with Ruffled Sleeves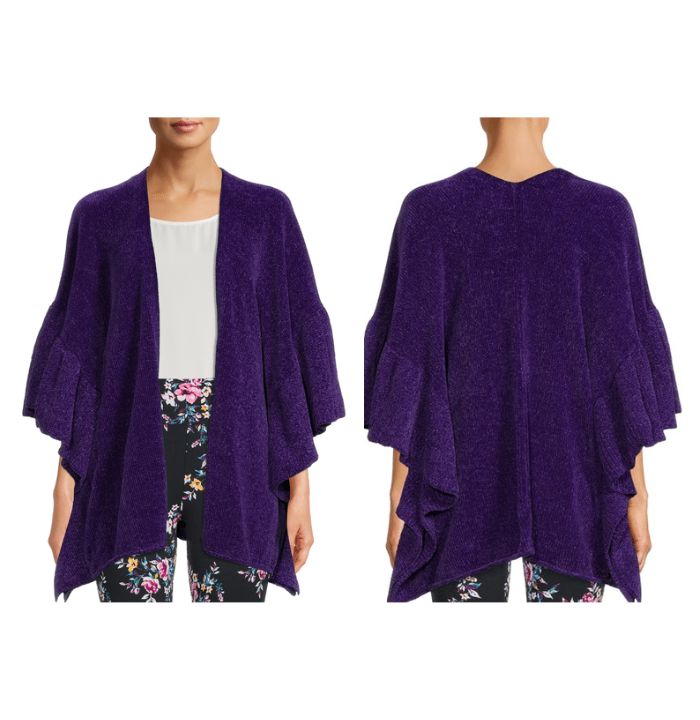 For women who are typically born slim, this stylish piece thrown over a midi dress or say a tank top and jeans/skirt will add some volume as well as attraction to your overall outfit.
Ensure that the flares of the sleeves are just enough to make you look elegant and not to be overdone.
15. Red Sleeveless Wide-Leg Jumpsuit
Now this is what I call that perfect one piece Valentine's Day outfit idea that is my go to sophisticated look, that can also pass off as a casual valentine's day outfit.
Simple, low heel sandals or bellies will add ultimate elegance to finish the look with hair left to dance to the winds of Spring!
The advantage of this outfit is that you can create matching valentines day outfits for couples.
16. Magenta Satin Cowl-Back Jumpsuit
This outfit sets the party mood right! What makes satin so very romantic? Sleek fabric and adjustable spaghetti straps combine to create a polished yet carefree style in this case.
You're sure to capture his looks this Valentine's day because it is classic but contemporary. Complete the look with low heel sandals or bellies, if it's a dance night as well.
17. Fairfax Ruffled Midi Dress
This ranks quite high on the list of cute valentine's day outfits because being conservative has never been equated with dull. The length of this long-sleeved dress is more modest without compromising style.
And the best part is that you can complete the look with any kind of shoes that make you comfortable – from your stilettos, to your ankle boots, from sandals to your sneakers – this outfit is all about style and comfort, hand-in-hand!
18. Sequin Embroidered Sheath Dress
In this slender sleeveless valentine's day dress with glittering tonal appliqué and an illusion collar, radiate elegance as that ideal Valentine's Day outfit idea.
Ensure that your sling-bag as well as the shoes are in a shimmer that gels well with the overall outfit.
These sexy valentine's day dresses are a complete, out-to-out party wear that will make you look extraordinary.
19. V-Neck "Florita" Dress from Lilly Pulitzer
Despite having a mostly straight cut, the Florita Dress lends a theatrical flare to the overall look.
Among the cute valentine's day outfits, this dress, which is brightly printed and made of rayon spandex jersey fabric, is perfect for any joyful event, and not just Valentine's Day.
20. Formal Off-the-Shoulder Gown
The extremely popular off-the-shoulder valentine's day dress! There is a reason they are still popular after all this time, because of being the most sexy valentine's day dresses!
As long as the appropriate footwear and beautiful accessories are worn with them, they look amazing with anything.
Frequently Asked Questions About Valentine's Day Outfits
How can I look pretty on Valentine's Day?
Dress in conventional Valentine's Day hues, such as pink or red, to really embrace the occasion. Create a monochromatic style for Valentine's Day, such as pink tones from head to toe. Additionally, don't forget to grin broadly and let your hair hang loose!
Which Accessories to wear on a Valentine's Day dinner date?
Keep it minimal and thin, men usually detest chunky pieces of jewelry. So some ear-studs and a simple necklace or gold chain and a perfectly sized bracelet would be enough. You can complete the look with a ring, if any gifted by him, along with a small clutch bag or sling bag. Avoid a handbag, because obviously, you would love to walk hand-in-hand with him, after the day is over!
Why do people wear red on Valentine's Day?
Red is the color of romance, of love. And wearing it on Valentine's Day means, accepting it publicly that you are in love with your BAE!