Do you know that a modern-day blazer is a must-have entity in the closet of any and every man? And they are in rage across the world in all seasons because none of the types of blazers of men needs matching pants to go with! Ease that you won't find in any other upper outfit for men. Dating back to the early 19th century, these came into vogue via the British Navy.
But do you know how many different types of blazers are in vogue in all seasons across the globe?
Top 8 Types Of Blazer For Men
Let us take you down through the 8 most popular types of blazers for men.
1. Single Button Blazer
These come in the Single-Breasted Blazer category and with a Single Button. These are among the most popular in all types of blazers for men. It has that classic yet timeless look, all the more because it suits any body type. And also because it passes off both as a formal blazer when buttoned up or as casual wear when unbuttoned.
Filmstar brother duo Ayushman Khurana and Aparshakti Khurana are well known for donning the single-button blazer style, especially when they are out for movie promotions. And before them, Shahid Kapoor and Rajkumar Rao have aced this style statement for years now.
2. Double Button Blazer
This also belongs to the Single Breasted Blazers for men category but has a different style to it together. These are a little more on the formal side than its single-button brother. It means that you must avoid them at events that are more on the casual side.
These flatter most body types and also hide a few extra pounds when the blazer is buttoned up! Who can forget Keanu Reeves making this style statement in the 'John Wick' franchise – so much so that in the West, for a long time the double button blazer came to be known as the John Wick Style!
3. Casual Blazers
As the name suggests, these are ideal for anything but a formal occasion. Usually, they come in all kinds of fabrics as per the season and various kinds of light to darker shades as per the mood of the occasion or the one donning the casual look.
Fast and Furious superstar and amazing gentleman Vin Diesel is known for his penchant for Casual Blazers. He is known to carry a few always in his cars, for an easy slip in and slip out and be set for any occasion any time.
No wonder, our stylist also always suggests we carry these with us in the car, to add that dapper look to any occasion anytime! A single-button blazer is always in top command in this category.
4. Formal Blazers
As the name suggests these are ideal for formal events and mostly come in deep monochrome colors like grey, black, army green etc. You cannot miss superstar Jason Statham wearing these throughout in the movie Transporter – why because he was donning the style with elan even during action sequences with that flying type of neck-tie! Remember?
A heart throbbing style, wasn't it?! This style became so popular for a while, that Jason decided to don the same throughout and beyond till the movie franchise carried on.
How are formal blazers different from casual blazers? Well, you have to very finely consider the trousers as well as the vest that will go with them. Also, these formal blazers are a fitting garment, so underneath you must wear a crisply ironed shirt and nothing more. Can add a sweater in winter, but that too has to be a thin one. Double-Button Blazer is the top choice in this style.
5. Printed Blazer
Printed Blazer for men is the top favourite of those who wish to look apart from the crowd, just like ace Bollywood director Karan Johar who would experiment with this style often during the Koffee with Karan Series.
And of course at various film awards that he would host. His Instagram is full of vibrant images! But the choice of what to wear with a printed blazer isn't that simple. So let us tell you what goes best with it – go for a minimalistic, monochrome approach always, to let your printed blazer stand out.
For instance, a monochromatic pantsuit is a safe bet with your funky blazer. But if you feel a little wilder in choices like the cool dude designer-cum-director Karan Johar is, then you can try different patterns or bright colors inside a printed blazer for men.
6. Chex Blazer
That one type of blazer for men which never runs out of fashion. Whether it is single-breasted, double-breasted or for that matter with a Tuxedo, Chex Blazers are ageless entities that men must always have in their closet.
These look great with both chinos and jeans. The added advantage is the wide range of textures and patterns and colors to browse among different types of blazers, with some turning out better for specific events over others.
Hollywood superstar and the Rock Dwayne Johnson may don casual wear for most of his movies, but when it comes to the outdoors, events, TV shows etc, he is famous for his Chex Blazers and even Chex suits. That amazingly gym-chiseled body of his is always the cherry on the top, while the aces this style always.
7. Summer Blazer
The late spring blazers are typically different hands-on blazers to wear, simply because they are customized to suit hot seasons that are available in comparable textures. Thus one can wear cotton shirts and T-shirts under these with ease and elan.
A summer blazer for men is ideally acceptable with both formal and relaxed garments. Usually, a single-button blazer is preferred in summer, but you can always pick a double-button blazer as per your comfort and temperatures outside.
You can never forget Fast and Furious star, late Paul Walker for his summer blazer and those killer, dapper yet innocent looks and style to die for. Whether it was the movie franchise or for that matter his airport looks, fans were drooling over his Summer Blazer looks always.
8. Winter Blazer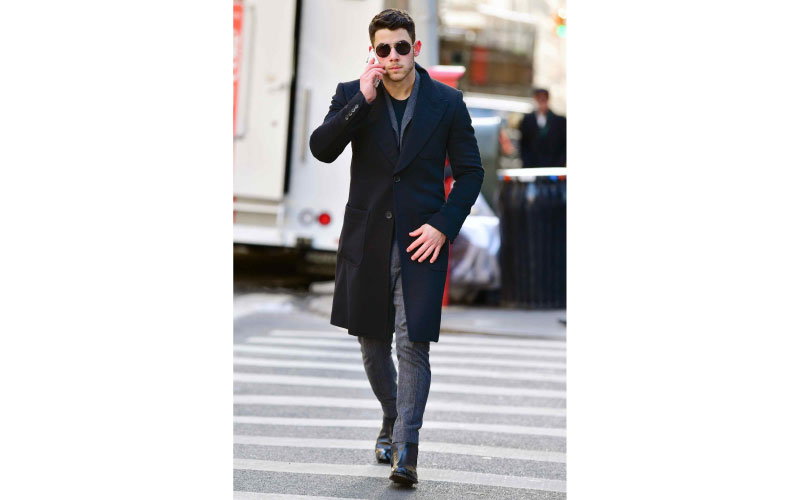 Just because the temperatures are dropping outside, you don't need to compromise your style statement by ducking in overcoats and thick suits. Be like Nick Jonas, GQ's Most Stylish Man of 2018, who is well known for his Winter fashion Statement via his amazing choice of winter blazers. Globally youngsters call him the master of this style!
And the key to those perfect winter blazers for Nick Jonas is the choice of the fabric. Dump linen and cotton, go for thick yet smooth wool for that great warmth. If you are one of those who feels colder than others, you can always wear the same blazer over a monochrome sweater or even a turtle-neck pullover to brave the freezing temperatures.
Wrapping up
Different types of blazers for different types of occasions and moods and styles – all ready to give you that perfect dapper look!
The bottom line is that it is one of the most sought after wear in a man's closet because it is amazingly comfortable to wear over various kinds of inners and lowers – and suits all seasons too.
So what are you waiting for?
Pick that perfect fit and style that enhances your looks and do write feedback to us with images. And if you need more advice on how to style different types of blazers for men, you can drop us your queries anytime.
FAQs About Men's Blazers
How can I find the right type of blazer?
Finding the right blazer can be a challenge. It can be too plain, or too flashy; you might want something that's classic but also cool and different.
The best blazers are the ones that fit your body type, but also feel comfortable. Don't buy something too long or too short–the length should fall between your waist and hips, and not be baggy or too tight. The material should be light enough so it doesn't make you feel hot, but not overly thin either.
What is the difference between a blazer and a jacket?
A blazer is a formal jacket with a close, single-breasted style. The fabric may be pleated or simply structured and belted at the waistline. Its narrow lapels, lower collar, and buttoning details distinguish it from a sport coat or sport shirt.
Jackets are casual, solid and classic. They are usually made from heavier fabrics with a larger silhouette than blazers.