The season for wearing different styles of boots is just around the corner. You will be able to try new footwear to look more fashionable. If you are looking for some options, Jodhpur Boots can be a new thing to try. You can find the best Jodhpur boots in nearby stores. Jodhpur boots are made with fine leather and are round-toed. They are low-heeled and used for riding.
What is the History of Jodhpur Boots?
Jodhpur boots are the result of the need for less expensive boots for riding. Soon after the invention of Jodhpur pants, tall boots went out of fashion. Ankle boots were required to be used while riding, which were already in existence. However, they were not used while riding. Therefore, Jodhpur boots were designed to be worn with Jodhpur pants.
How Do Jodhpur Boots Look?
Jodhpur boots for men are the go-to fashion choice nowadays. They are stylish, comfortable and fits into the budget. They are round-toed and come till the ankles. Since these boots were originally designed to be worn while riding, they come up with buckles and straps. A lot of men have started wearing Jodhpur boots with a suits. You can make a fashion statement by wearing the same thing!
Characteristics of Jodhpur Boots For Men
Jodhpur boots have originated from the city of Jodhpur after the invention of Jodhpur pants. These boosts have a unique character from the rest of the boot. These are as follows:
Ankle length and round-toed
Low heeled
Made from fine leather
With buckle and straps around the ankle
The vamp is sewn on the top of the quarters
Buckle side on the onboard and free side inside
Loop at the back from where the strap is passing
The strap is in two parts, each part is attached to a vamp
How To Wear Jodhpur Boots?
If you are looking for an outfit with Jodhpur boots, read till the end. Jodhpur boots can be worn in different styles and on various occasions.
1. With Suits
One place to wear Jodhpur boots for men is at work. You can start by wearing them once a week and then take them forward. They give a classy look and easily go with the formal look. Wearing Jodhpur boots will make you stand apart from the rest of the office. These boots will spice up your office look.
2. With White Shirts & Grey Trousers
If you are still wondering how to wear Jodhpur boots, here is another way. You can wear them with a white shirt and grey trousers. This gives a simple yet sophisticated look and does not take much effort. The whole look with the boots and the trousers goes hand-in-hand. You will have to change nothing about what you are already wearing.
ALSO READ: Men's Styling Tips – Guide to Dress Up Well
3. With Denim Jeans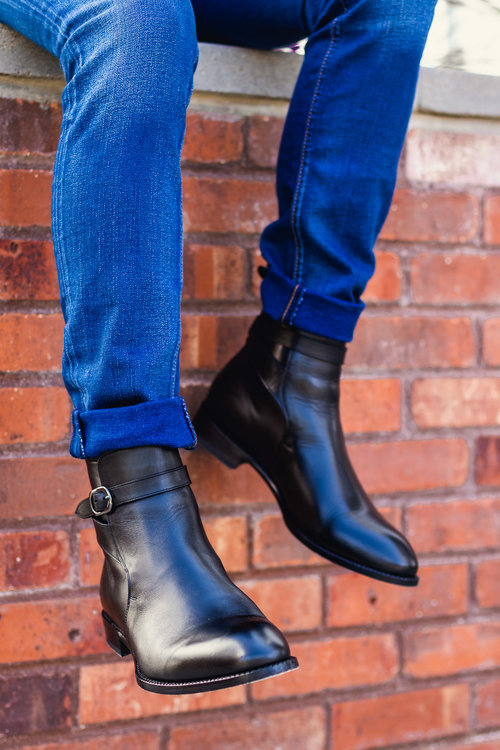 The best thing about Jodhpur boots is that you can wear them on an everyday basis. These boots are not only fashionable, but also very comfortable. You can create a casual outfit with Jodhpur boots. You can wear these boots at multiple places, which makes them worth the price. Also, they bring a whole new look to your casual wear.
What Are The Best Jodhpur Boots For Men?
Here are the list of best Jodhpur boots for men, which you can give a try with any outfit of your choice.
1. HORZE Sydney Paddock Boots
These are some of the best Jodhpur boots available in the market. They are available in black and brown colours. These boots have a fine leather lining giving them a stylish look to them. Sydney Paddock boots come with a front zipper and a soft rubber sole. You can purchase them physically from a footwear store or online website. They are reasonably priced.
2. Frye Men's Grady Jodhpur Chelsea Boots
Frye Men's have a wide range of Jodhpur boots for men. This brand has a history of more than 100 years in designing boots for men. They are made in the USA and have a soft rubber sole. They are available in four different colors grey, brown, dark grey and oxblood. If you want to step up your fashion game, this is your chance. These are a go-to choice for Jodhpur boots for men.
3. HORZE Devon Jodhpur Boots
These shoes have a traditional yet classic look to them. Devon Jodhpur boots come with laces in front and have a soft rubber sole. They are available in black and light brown colour. The best thing about these boots is that they are very comfortable to fit in/wear. The price of the boot is also low.
4. Dingo Men's Jackson Roper Round Toe Boots Ankle
If you are looking for a trendy outfit with Jodhpur boots, you can wear these. These boots are available in black and brown. But these boots are different from the rest of the Jodhpur boots. Dingo Men Jackson boots are ankle-high boots and not reach till the ankle. It makes the whole thing look very stylish and different.
Boots are the trendiest footwear to wear these days. You cannot go wrong with these Jodhpur boots for men. You can style them according to your taste and preference. You can wear them to work, to a party, and in your everyday routine. They are comfortable and budget-friendly.