Have you ever thought about what makes leather jackets the most preferred outwear?
Now, when we think of it, leather jackets have been in trend for more than a century. The high durability of the jackets makes them a must in every men's wardrobe.
Most men consider leather jackets a vital investment, besides a suit in their wardrobe. The badass look of jackets is inevitable for the fall season or any season. But, which type of leather jacket suits you best?
The following article is an ultimate guide to different types of jackets and how to wear them.
History of Leather Jackets
Leather has been there since the birth of humankind. But, Leather jackets came into a trend much recently. The first-ever leather jacket was issued to airmen on flights in the 1900s. During World War I, Germans gave standard leather jackets to their airmen. Soon after, Americans also introduced bomber jackets for the pilot and airmen.
During these times, leather jackets shifted from being protective outerwear to fashion apparel. In the 1920s to 1930s, the popularity of leather jackets increased. The increase in demand for motorcycles led to the introduction of leather jackets into the fashion world in the 1950s and 1960s. Since then, they have stayed in style.
10 Types of Leather Jackets Men Should Own
Let's dive in and know more about type of leather and how to wear a leather jackets to enhance your overall look and outfit.
1. Leather Shearling Jackets
Similar to their name, leather shearling jackets have an inner shearling lining. This inner shearling or fur lining gives much comfort to the jackets. The perfect quality leather of sheep or lambskin with wool inside makes the jackets softer to wear. The leather shearling jackets are perfect for icy conditions. They are available in biker, trench, or flight coat style. Due to the presence of shearling, you do not need a scarf or muffler in these types of jackets.
2. Moto Jackets
Moto stands for the short form of motorcycle, are inspired by the heavy-built, classic motorcycle jackets. These are not used as protective gear but are in trend for their looks. Lightweight and Soft Leather are used to make Moto Jackets. The details on the jacket are streamlined and visible. The band collar jackets have a front zip, two zipped pockets, and a snap over the collar. You can wear them during your usual motorcycle rides but can't use them as protective gear.
Are you planning to gift leather jacket to him this valentine's day?

Check this guide to get more valentine's day gift ideas

3. Faux Leather Jackets
Most people do not prefer traditional leather. Traditional leather is usually obtained through the tanning of cows and sheep. But, people prefer more sustainable products that do not involve any animal skin. Hence, faux leather jackets came into existence. This type of leather jacket for men uses a combination of plastic, polyurethane, and wax as its main components.
They provide a similar durability and feel as traditional leather jackets. They are also cheaper because of faster production. You can wear faux leather jackets in the same style and they will look like the traditional ones.
4. Leather Blazer
Next on the list of men's leather jackets; we have a leather blazer. A leather blazer brings warmth and texture to your wardrobe. They are leather coats with a single or double button closure. The cut length of the leather blazer depends on the manufacturer. It can be short, medium, or long. They have a soft and protective build with huge traditional lapels. Styling the leather type of blazer both formally and casually looks like a classic.
5. Bomber Jacket
They are the warmest and most durable leather jackets. The jacket's shape is complete through the body and tapered at the end. Hence, the jackets are loose from the midsection with tight fitted sleeves and waist. They have two side pockets and rib knits around the collar. The bomber jackets are perfect for casual occasions. With a crisp shirt, comfy pants, and perfect shades, you can also create a chic look with them.
6. Biker Jackets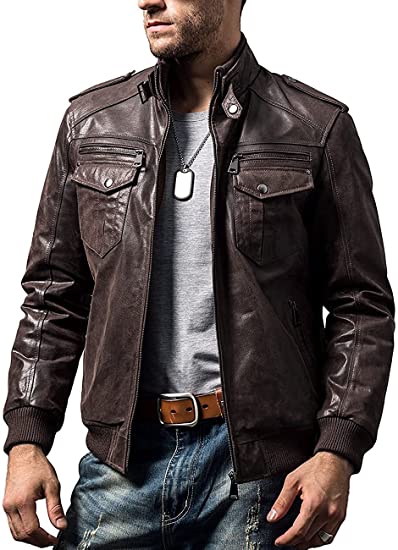 Biker jackets are the most iconic type of leather jacket. With high durability and strong material, it is very thick. The biker jackets are primarily built as protective outerwear while driving the motorcycles. It is a slim-fit jacket with an asymmetrical zip closure. Cuffs are zipped, and a belt closure is present on the waist.
7. Leather Coats
Leather coats offer more coverage and are perfect for the fall season. They give you a sleek look while also offering warmth and durability. They are long coats with a front button closure. Some of them also have a belt closure at the waist. They have a lapel collar type. These coats have multiple pockets. They also have a buttery smooth texture.
8. Trucker Leather Jackets
Trucker jackets are the most preferred casual leather jackets by men. The jackets have a unique build and are durable. They have front closure buttons with shirt-style collars. The jackets are available in multiple colors and have four pockets, two on the outside and two on the inside. Trucker leather jackets are mainly for casual wear. But, when paired with a crisp shirt and formal pants, they can also give an executive look.
9. Racer Jackets
Racer jackets are biker leather jackets with a more modern look. They almost serve the same purpose as biker jackets with more durability and a more robust build. Except that racer jackets are more preppy in appearance. They feature smooth lines and are short in length. Racer Jackets have short and straight collars with a single snap band. The bikers and racers prefer this class of leather jackets, owing to their robust and road-abrasion nature.
10. Quilted Leather Jackets
In quilted leather jackets, quilting is not a style but a design. The jackets come in different styles, but with quilting. They have insulated padding made through quilting. They serve as an extra layer of protection in cold weather. Quilted Leather Jackets have a front zip with two pockets on the side. Wear them casually and formally to leave an impression. Due to the quilting, they have a soft and warm build.
Now, we know why leather jackets have been in trend for a century. Their string built, warmth and, durability make them a must in every men's' wardrobe. From biker jackets to leather coats, the article shows ten different types of jackets and how to wear leather jackets. For better durability of the jackets, it is advisable to confirm the originality of the material.
Frequently Asked Questions on Leather Jackets
Which type of leather jacket is best?
The moto leather jackets and leather shearling jackets are considered the best. They provide a robust build, high durability, and are long-lasting. These types of jackets are the most in-demand among men. They give a rigid as well as, a sophisticated look and are a must-have in the wardrobe.
Do leather jackets make you look tough?
Yes, it is advisable to choose Biker jackets for a tough look. There are similarly built racer jackets but they are more modern. The slim-fit-built asymmetrical zip gives you a badass look. The built-in closure at the waist and zipped cuffs add up to the robust look.
Which leather is warmest?
Goatskin leather is considered the warmest of all types of leather. Goatskin is a warm, comfortable, and durable outerwear. Sheepskin or lambskin leathers are lightweight but decently warm. Goatskin leather is more durable and warmer than sheepskin.
How do I choose a leather jacket?
Choose a leather jacket according to your preferred requirement of styling. The different leather jackets provide different styling opportunities. From casual, formal to badass look, the choice is all yours. You can start with length, as many leather jackets are available in different lengths. Try styling them with your preferred clothing style and choose the one that suits you.