Choosing the right sunscreen for sensitive skin is crucial to protecting the skin from harmful UV rays without causing irritation or allergic reactions. Sensitive skin can react adversely to certain chemicals and fragrances commonly found in sunscreens. Therefore, select a gentle yet effective sunscreen. The market is filled with countless options. Among these, choosing the best sunscreen for sensitive skin is a bit tricky. This article introduces the top 10 Korean sunscreens for sensitive skin. These sunscreens are formulated with skin-friendly ingredients. Applying these daily helps you have robust protection without any risk of irritation. They combine innovative technology with gentle care. Therefore, these are ideal for those seeking effective sun protection without compromising their skin's health.
Tips to Choose the Best Face Sunscreens for Sensitive Skin
Choosing the right sunscreen is essential for effective skin protection. Here's how to choose the best face sunscreen for sensitive skin:
SPF Rating: Opt for a sunscreen with an SPF of at least 30 for daily use. Higher SPF ratings offer better protection against UVB rays.
Broad Spectrum: Look for sunscreens labeled 'broad spectrum'. This ensures protection against both UVA (aging) and UVB (burning) rays.
Water Resistance: If you're active or swim frequently, choose a water-resistant formula to maintain protection.
Skin Type Consideration: For sensitive or acne-prone skin, select mineral-based sunscreens with zinc oxide or titanium dioxide. These are less likely to cause irritation.
Texture Preference: Sunscreens come in various forms, such as lotions, creams, gels, and sprays. Choose one that feels comfortable on your skin and fits your lifestyle.
Ingredients: Avoid sunscreens with potentially harmful ingredients like oxybenzone and octinoxate, especially if you have sensitive skin or are environmentally conscious.
Expiration Date: Check the expiration date to ensure effectiveness. Expired sunscreen won't protect as well.
Reapplication Schedule: Remember that sunscreen needs reapplication every two hours, or more frequently if swimming or sweating.
Patch Test: For sensitive skin, do a patch test before using a new sunscreen. This way, you can check for any adverse reactions.
Considering these factors, you can select a sunscreen that offers effective protection and suits your skin's needs.
10 Best Korean Sunscreens for Sensitive Skin
1. Klairs Soft Airy UV Essence
This is a water-based sun protection gel that you can use daily. It is one of the best sunscreens for sensitive skin. Enriched with Ethylhexyl Triazone, Diethylamino Hydroxybenzoyl Hexyl Benzoate, Niacinamide, and Adesonine, this gel hydrates and brightens the skin. Simply apply the gel evenly on the skin after completing your daily skincare routine and at least 15 minutes before going out in the sun.
SPF: 50+
PA: High
2. COSRX Aloe Soothing Sun Cream
Enriched with aloevera extract, CORSX sun cream protects skin from UVA and UVB rays. It also locks the moisture in the skin and keeps it hydrated. Therefore, even after having prolonged exposure, the skin does not lose its natural glow. Moreover, its anti-aging effect gives a soothing effect to the skin. This sensitive skin sunscreen is also good for dry skin texture. It keeps the skin moisturized without leaving any greasy residue or white cast.
SPF: 50
PA: High
3. Biore UV Aqua Rich Watery Essence
It's a water-based sunscreen powered by the world's first Micro Defense Formulation. It evenly spreads all over the skin, protects the skin from UV rays, and leaves no white cast. This waterproof cream can also be used as a makeup base. Simply apply it evenly all over your face after applying moisturizer and before applying makeup. For best results, apply time to time throughout the day, especially after swimming, sweating, etc.
SPF: 50+
PA: High
4. Purito Centella Green Level Safe Sun
This Dermatologists recommend sunscreen for sensitive skin works wonder on acne prone skin as well. Enriched with cetearyl alcohol, glycerin, glyceryl stearate, hyaluronic acid, niacinamide, silica, and tocopherol, this toner soothes the skin and gives proper hydration. It prevents moisture evaporation from the skin. Applying the toner daily also strengthens the moisture barrier of the skin. As it has 50+ SPF, you can use it to protect your skin from the harsh rays of the sun.
SPF: 50+
PA: High
5. Dr. G Green Mild Up Sun
Dr. G. Green's Mild Up Sun Essence is a gentle sunscreen infused with essence. This product effectively hydrates the skin, thanks to its octuple hyaluronic acid and provitamin D content. It offers comprehensive protection with six layers that shield against mask irritation, blue light, infrared rays, fine dust, and both UVA and UVB radiation. The formulation ensures skin stays moisturized in various temperatures. This sunscreen not only safeguards the skin but also enhances its moisture, making it ideal for daily use.
SPF: 50
PA: High
6. Etude House Surprise Mild Airy Finish Sun Milk
This is a 100% mineral-based sunscreen, ideal for sensitive skin. It boasts a non-sticky, grease-free, smooth texture. This sun milk contains 20 different vegetable ingredients, ensuring robust UV protection. Key components include dwarf ground sedge extract and sunflower seeds for UV defense. Acai berry and acerola improve skin vitality. The sunscreen also has soothing agents like Portulaca oleracea, Centella asiatica, and mistletoe leaves. Hydrating elements like aloe vera, cactus, and hyaluronic acid keep the skin moisturized.
SPF: 50
PA: High
7. Innisfree Blueberry Rebalancing Watery Sun Cream
This Sun Cream stands out with its unique Water Splash texture. It offers a burst of hydration upon application. This lightweight sunscreen provides ample moisture without leaving a white cast. It is enriched with centella asiatica extract. This ingredient has anti-inflammatory and healing benefits. It helps enhance the skin's moisture and antioxidant levels. The cream also has blueberry extract. This ingredient is rich in antioxidants and vitamin C, promoting skin brightening and conditioning. Titanium dioxide ensures broad-spectrum SPF 45 PA+++ protection. The formula leaves the skin feeling refreshed, moisturized, and with a dewy finish.
SPF: 45
PA: High
8. A'PIEU Pure Block Natural Daily Sun Cream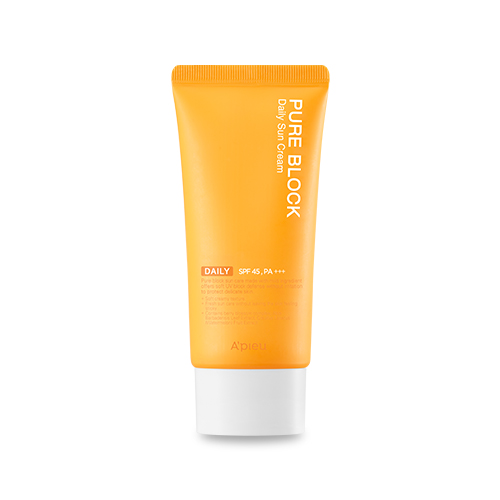 A'PIEU Pure Block Natural Daily Sun Cream provides effective protection against harmful UV rays. The cream is enriched with aloe, red fruits, and flower extracts. Its non-sticky, lightweight formula glides on the skin effortlessly, leaving no residue. This sun cream creates a smooth, matte finish, ensuring your skin looks and feels fresh all day. The unique combination of natural ingredients not only shields the skin from the sun but also nourishes it, making it ideal for daily use.
SPF: 45
9. Missha All Around Safe Block Essence Sun
Missha All Around Safe Block Essence Sun offers comprehensive protection with its light, hydrating formula. It shields skin from aging UVA rays, burning UVB rays, pollution, and environmental aggressors. Besides providing immediate defense, this sunscreen also contributes to long-term skin texture and performance improvement. It's hypoallergenic. Thus, it is safe for even the most sensitive skin. Especially recommended for dry or damaged skin, it leaves a moisturized finish. Applying this cream daily keeps skin healthy and protected throughout the day.
SPF: 45
10. Neogen Day-Light Protection Sun Screen
This is a daily essence sunscreen. It offers lightweight, airy protection. Its silicone-free formula boasts SPF 50+ and PA+++ for effective UVA/UVB defense. Enhanced with 20 plant extracts, it soothes, moisturizes, controls sebum, and rejuvenates skin even in intense sunlight. Key hydrating ingredients include Damask Rose, Aloe Vera, Raspberry, and Avocado Fruit. It's particularly suitable for normal to oily skin types, providing hydration for dry skin and doubling as a moisturizer for others during the day.
SPF: 50
In summary,
Choosing the right sunscreen is very important for your skincare. It's key to knowing what your skin needs. Look for a sunscreen that fits your skin type and lifestyle. Consider the SPF number, if it covers both UVA and UVB rays, and if it's water-resistant. A good sunscreen matches your skin's needs and how you live your day. Regular use is important for protection. The best sunscreen for sensitive skin helps keep your skin safe from the sun, stops early aging, and keeps your skin healthy and flawless.
FAQ
1. What is SPF?
SPF stands for sun protection factor. It measures the level of protection a sunscreen provides against UVB rays, which are the main cause of sunburn and can contribute to skin cancer. The SPF number indicates how long UVB rays would take to redden your skin when using the sunscreen as directed, compared to the time without sunscreen. For example, an SPF of 30 means it would take 30 times longer for your skin to burn than without protection.
2. What is a PA rating?
PA rating refers to the protection grade of UVA rays, which are associated with skin aging and long-term skin damage. The PA rating system ranges from PA+ to PA++++. Higher PA ratings indicate more protection against UVA rays. PA+ offers some UVA protection; PA++ offers moderate protection; PA+++ offers much protection; and PA++++ offers extremely high protection.