Are you looking to rock a denim jacket with style? In this article, we will guide you on how to wear a denim jacket for men and master the art of styling it effortlessly. From classic combinations to modern twists, we'll explore various denim jacket styles for men, layering techniques, and accessorizing tips. Get ready to elevate your fashion game and make a statement with your denim jacket ensemble.
Key Things to Consider while Shopping for Denim Jackets
When shopping for a denim jacket, there are a few key points to consider.
First, pay attention to the fit. Look for a jacket that is neither too loose nor too tight, ensuring it hugs your body in a flattering way.
Next, consider the wash and color. Classic blue is versatile, but you can also experiment with black, gray, or even distressed options.
Quality is crucial, so check for sturdy construction and durable materials.
Lastly, explore different styles such as trucker jackets or oversized designs to find the one that suits your personal taste and aesthetic.
How Should One Ensure the Right Fit for a Denim Jacket?
Ensuring the right fit for a denim jacket is essential to achieve a stylish and comfortable look. Start by checking the shoulder seams, which should align with the edge of your shoulders. The jacket should fit snugly around your chest and torso without feeling tight. Opt for sleeves that end at your wrist bone, allowing for movement and layering. Additionally, check the length, ensuring it hits at your waist or slightly below. Trying on different sizes and styles will help you find the perfect fit for your body shape.
How To Wear A Denim Jacket For Men? One Jacket, Endless Possibilities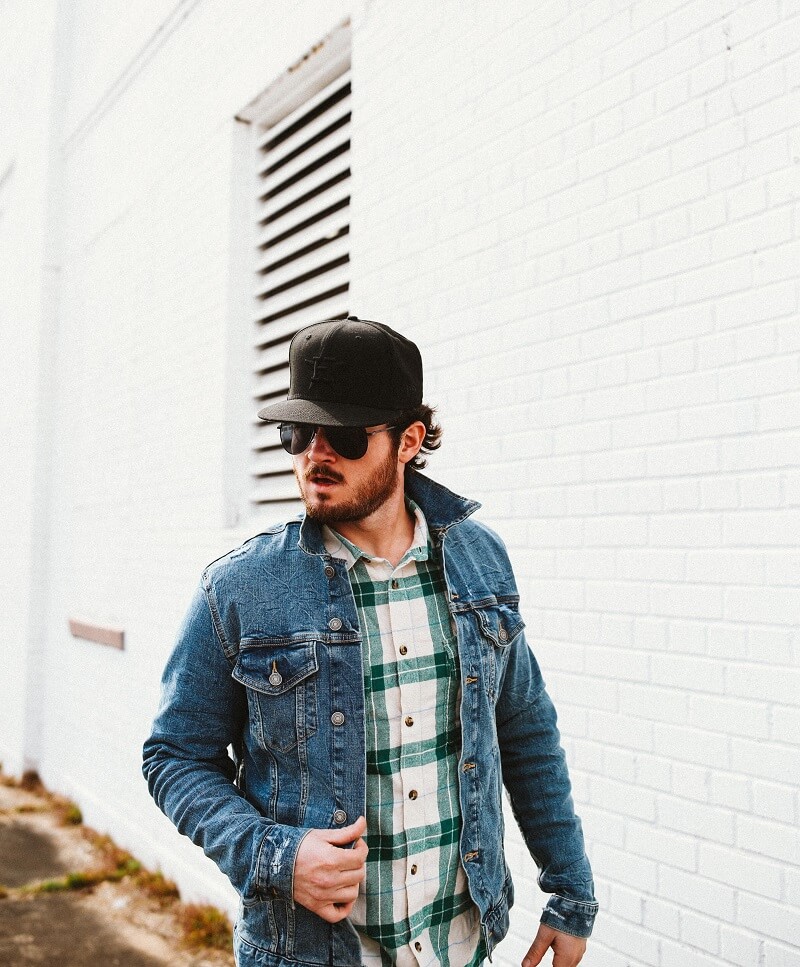 Looking for stylish ways to wear a denim jacket for men? Check out these versatile denim jacket outfit ideas that will elevate your fashion game and make a statement.
1. Denim Jacket With Tailored Trousers:
Pair your denim jacket with tailored trousers for a smart-casual look. Choose complementary colors and textures for a well-coordinated ensemble.
2. Denim Jacket With Printed Shirt and Shorts:
One of the most casual denim jacket outfits for men is combining the jacket with a vibrant printed shirt and shorts. This outfit is perfect for a casual day out.
3. Blue Jean Jacket With White Tee and Sneakers:
Are you looking for a jean jacket outfit for men that can help you achieve a classic and timeless style? Team your blue denim jacket with a crisp white tee and sneakers. It's a go-to combination that never fails.
4. Denim Jacket With Chinos:
For a sophisticated yet casual outfit, pair your denim jacket with chinos. This combination strikes the right balance between comfort and style.
5. Black Denim Jacket With Black Denim Jeans:
Create a sleek and monochromatic look by wearing a black denim jacket with black denim jeans. Add a pop of color with accessories or footwear.
6. Denim Jacket With a Graphic Tee & Sneakers:
Infuse some personality into your outfit by layering your denim jacket over a graphic tee. Complete the look with your favorite sneakers for a cool and casual vibe.
7. Jean Jacket With Button-Down Shirt, Trousers, and Leather Boots:
Achieve a refined and stylish look by pairing your denim jacket with a button-down shirt, trousers, and leather boots. This ensemble is perfect for more formal occasions.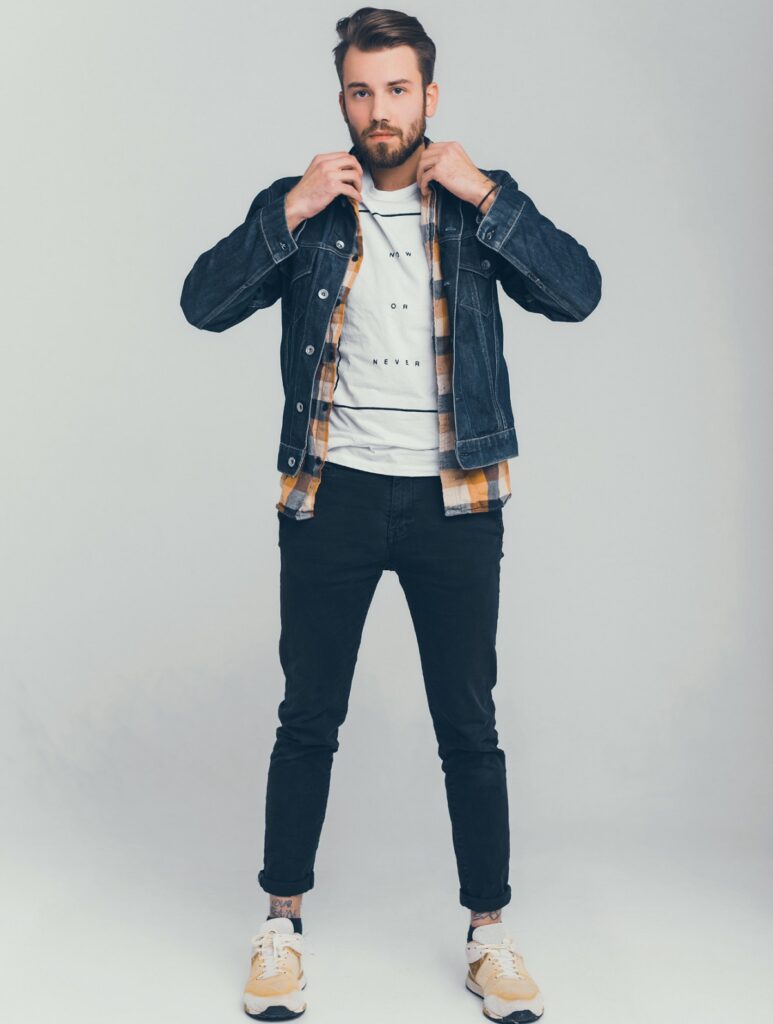 8. Denim Jacket Styled With A Hoodie:
Combine comfort and style by layering your denim jacket over a hoodie. This combination adds a casual and sporty touch to your outfit.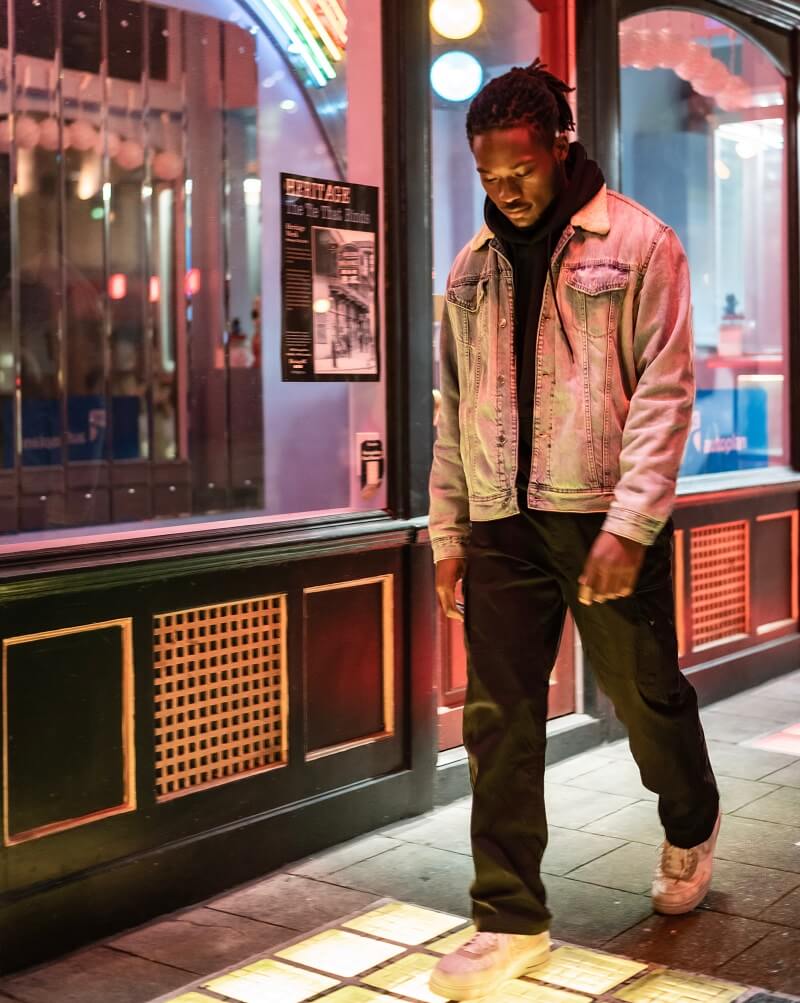 9. Black Monochrome Outfit: Denim Jacket + Turtleneck + Jeans + Boots:
Create a sleek and modern monochrome look by wearing a black denim jacket with a black turtleneck, black jeans, and boots. This ensemble exudes effortless style.
10. Jeans Jacket With Khaki Pants:
For a sophisticated and versatile outfit, pair your denim jacket with khaki pants. This combo is great for all kinds of occasions, from chill hangouts to slightly fancier shindigs.
11. Denim Jacket With A Polo:
Combine a denim jacket with a polo shirt for a preppy and stylish look. This combination is great for a polished yet relaxed outfit.
12. Denim Jacket Paired With Joggers and Sneakers:
Create a comfortable and trendy outfit by teaming your denim jacket with joggers and sneakers. This combination is perfect for a casual and athleisure-inspired look.
13. Jean Jacket Styled with An Overcoat:
Layer your denim jacket under an overcoat for a stylish and warm outfit during colder seasons. This combination adds a fashionable twist to your winter wardrobe.
14. Denim Jacket Paired With A Luxe Sweater:
Elevate your denim jacket look by pairing it with a luxurious sweater. Opt for textures like cashmere or merino wool to create a sophisticated and cozy ensemble.
How to Style Denim Jackets with the Right Accessories
Accessorizing with a denim jacket can elevate your style and add a personal touch to your outfit. Wear a statement watch or bracelet to add some flair to your wrist. Experiment with a stylish hat, such as a fedora or beanie, to complement your jacket. Complete the look with a stylish belt and a pair of sunglasses that match your overall aesthetic. Remember, the key is to keep it balanced and not overdo it, letting the denim jacket be the centerpiece of your ensemble.
Also Read,
In conclusion,
Mastering the art of wearing a denim jacket for guys opens up endless possibilities for creating stylish and versatile outfits. Whether you're going for a casual, smart-casual, or even formal look, the denim jacket can be effortlessly incorporated into various ensembles. With the right combination of clothing and accessories, you can confidently rock this timeless wardrobe staple and make a fashion statement. So, embrace the versatility of the denim jacket and let your personal style shine through.
FAQs
● Can a denim jacket be worn casually and formally for men?
Yes, a denim jacket can be worn both casually and formally for men. Pairing it with jeans or chinos creates a casual look, while layering it over a button-down shirt and trousers adds a formal touch.
● What are the best colors to pair with a men's denim jacket?
The best colors to pair with a men's denim jacket are neutrals like white, black, gray, and navy. These colors create a versatile and stylish combination that complements the denim jacket.
● How do I maintain and care for a denim jacket?
To maintain and care for a denim jacket, avoid washing it frequently to preserve its color and shape. Spot clean stains when possible, and when necessary, wash it inside out in cold water with a mild detergent. Air dry or tumble dry on low heat to prevent shrinkage.
● Should I wear a denim jacket open or closed?
Whether to wear a denim jacket open or closed depends on the look you want to achieve. Wearing it open gives a relaxed and casual vibe, while buttoning it up creates a more polished and put-together appearance.