Korean skincare has gained popularity for its effective treatment of acne-prone skin and acne scars. It focuses on a holistic approach that involves gentle cleansing, hydration, and nourishment of the skin.
Korean skincare products are formulated with natural ingredients, such as green tea, aloe vera, and snail mucin, known for their healing and rejuvenating properties. The use of skincare techniques, such as double cleansing and layering of products, ensures the removal of impurities and deep penetration of active ingredients, resulting in clearer, brighter, and healthier-looking skin.
So are you interested in choosing Korean skincare for acne scars?
Before making the final purchase decision, first understand the type of acne scar you have, the routine of Korean skincare for acne prone skin and then choose from some of the best Korean skincare products for acne scars. 
Without further ado, let's start the discussion.
Types Of Acne Scars
There are several types of acne scars, including ice pick, boxcar, rolling, and hypertrophic scars.
Ice pick scars are narrow and deep; boxcar scars have sharp edges and are wider; rolling scars are wide and shallow; and hypertrophic scars are raised and bumpy.
What Are The Best Ingredients for Fading Acne Scars?
There are several ingredients that are effective in fading acne scars, including:
Vitamin C: It brightens the skin and helps fade scars by promoting collagen production.
Retinoids: They help increase cell turnover and stimulate collagen production, resulting in soft, supple and radiant skin.
Niacinamide: It helps reduce inflammation and hyperpigmentation, resulting in an even skin tone.
Alpha-hydroxy acids (AHAs): They exfoliate the skin and stimulate cell renewal, reducing the appearance of scars.
Salicylic acid: It helps unclog pores and reduce inflammation, preventing future breakouts and fading scars.
Kojic acid: It has skin-lightening properties that help fade dark spots and hyperpigmentation.
Overall, these ingredients work by promoting skin cell turnover, reducing inflammation, and stimulating collagen production, resulting in a smoother and more even complexion.
10 Best Korean Skincare Products for Acne Scars
You have already gone through the useful ingredients that help fade acne scars. The best Korean skincare products for acne scars are enriched with all these ingredients. Let's have a look at some of these:
1. Some By Mi Snail Truecica Miracle Repair Serum
Enriched with  82% Goheung Yuja Extract, 12 essential vitamins, and 5% Niacinamide, this serum is an excellent product for keeping skin blemishes, dark spots, redness and aging signs  at bay. Consistent use of this serum improves the skin tone as well.
The best thing about this serum is its lightweight texture that hydrates the skin without leaving any sticky feeling.
2. Cosrx Galactomyces 95 Tone Balancing Essence
This is one of the best skincare products for dry, rough skin. It is formulated with  95% Galactomyces Ferment Filtrate and keeps the skin hydrated. Daily use of this lightweight serum moisturizes and brightens the skin.
3. Neogen Dermalogy Cica Repair Snail Cream
Formulated with 88% snail mucin, 2% of niacinamide, hyaluronic acid, antioxidants, and plant collagen, this cream helps regenerate the skin and improve skin elasticity.
Using this cream over time reduces skin scars, and makes the skin firmer and younger looking.
4. Dear Klairs Gentle Black Deep Cleansing Oil
Enriched with vegetable oil and antioxidants, this cleansing oil deeply cleans the skin, removes dirt, makeup, excess oil, and keeps the skin supple and radiant.
Daily use of this cleansing oil helps the skin free from blemishes and acne scars.
5. Naturium Niacinamide Serum 12% Plus Zinc 2%
Formulated with 12% niacinamide and 2% zinc PCA, this paraben-free face serum is an excellent choice for those who have dark spots, open pores and fine lines.
Apply it daily on the face and neck every morning and night and follow with moisturizer to get the best result. It evens your complexion and makes the skin smooth and supple.
6. Some By Mi Aha-Bha-Pha 30days Miracle Toner
Formulated with Yuja extract, antioxidants, vitamins, and lotus extract, this miracle toner can rejuvenate your skin and make it glowing within just 30 days of daily use. Over the time of usage, you will notice how your skin is being free from dark spots, blemishes, freckles, and other signs of aging.
If you have rough, dry skin, use this toner to give the skin vitality and have a soft, hydrated and even toned skin easily.
7. Benton Snail Bee High Content Steam Cream
This is another dermatologically tested, chemical free skincare product, enriched with Snail Secretion Filtrate, Bee Venom, Peptides, Hyaluronic Acid, and various botanical extracts.
This cream not just reduces open pores and prevents acne scars but also hydrates and moisturizes the skin. The skin tone looks even and glowing all day long.
8. Cosrx Blemish Spot Clearing Serum
Enriched with CentellAC-Rx Complex, 85% Propolis Extract, and 4% Niacinamide, this serum clears all signs of acne, reduces hyperpigmentation, rejuvenates and moisturizes the skin.
Apply just 2-3 drops daily on the face, evenly spread and massage till it gets totally absorbed to the skin.
9. Dr. G Brightening Peeling Gel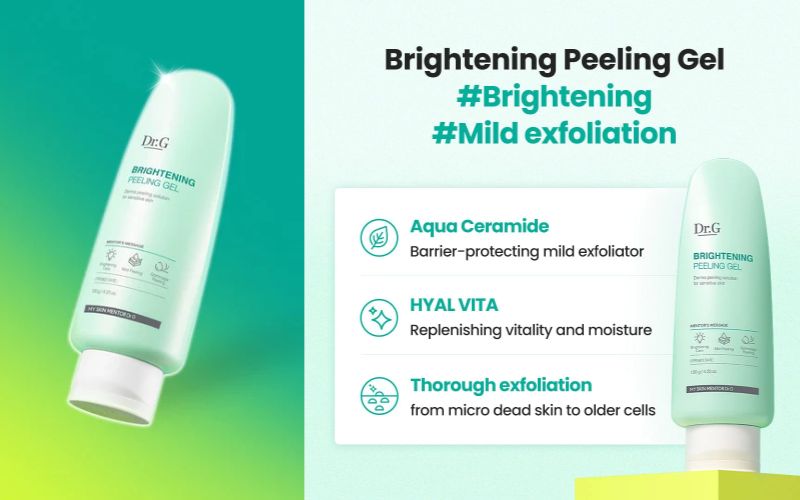 Do you want to remove dead skin cells  and prevent acne scars without leaving any adverse impact on the skin?
Choose Dr. G brightening peeling gel. Rich in Natural cellulose, vitamin C, vitamin E, honey, trehalose, olive oil and other moisturizing properties, this peeling gel smoothly reduces the dead skin cells, cleanses the skin, hydrates and makes the skin tone brighter.
Use it once or twice a week to get the best result.
10. Isntree Chestnut AHA 8% Clear Essence
Enriched with 4% Glycolic acid, 4% Lactic acid, centella asiatica and hyaluronic acid along with other natural moisturizing ingredients, this skin essence removes dead skin cells, and leaves a smooth, bright and flawless skin complexion.
Apply it twice or thrice a week on a clear skin after using toner to get the best result.
Step-by-Step Korean Skincare Routine For Acne Scars
Follow this Korean skincare guide for oily acne prone skin to get the best result:
Step 1: Remove Makeup
Use a gentle makeup remover or cleansing oil to remove any makeup, dirt, or debris from the skin's surface. It's important to start with a clean slate for the rest of your skincare routine.
Step 2: Cleanse the skin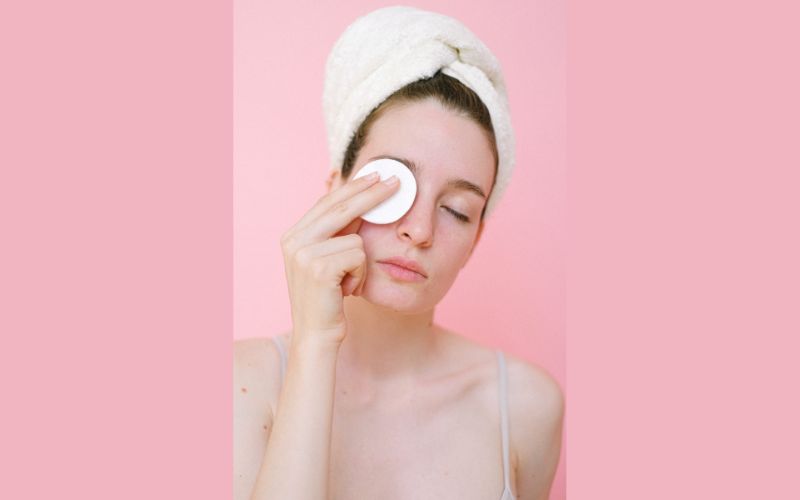 Use a gentle cleanser to cleanse your skin thoroughly, but avoid any harsh scrubs or abrasive cleansing tools that can irritate your skin.
Choose a cleanser, designed for acne-prone skin, which may be rich in components like salicylic acid or tea tree oil.
Step 3: Exfoliate
Exfoliating can help remove dead skin cells and promote cell turnover. It can help reduce the appearance of acne scars.
Use a gentle exfoliator once or twice a week, depending on your skin type and sensitivity.
Step 4: Apply toner
Toners can help balance your skin's pH level. Choose a toner that contains ingredients like witch hazel, green tea, or rosewater to help soothe and calm irritated skin.
Step 5: Apply Essence
Essences are lightweight, hydrating serums that can help brighten and even out your skin tone. Look for an essence that contains ingredients like niacinamide, vitamin C, or arbutin, which can help reduce the appearance of acne scars over time.
You can also read: Best Fragrances and Colognes for Men
Step 6: Don't forget the serum
Serums are highly concentrated treatments that can address specific skincare concerns, like acne scars. Look for a serum that contains ingredients like retinol, alpha-hydroxy acids, or peptides to help promote collagen production and decrease the appearance of acne scars.
Step 7: Moisturize
Moisturizing cannot be ignored for maintaining healthy, hydrated skin. Choose a lightweight, non-greasy moisturizer that provides hydration for your skin type.
Step 8: Do Spot Treatment
If you have any active breakouts, use a spot treatment to target those areas specifically. Look for a treatment that contains ingredients like benzoyl peroxide or salicylic acid to help clear up acne quickly.
Step 9: Add Another Layer of Moisturizer at Night or Apply Sun Block for Day Time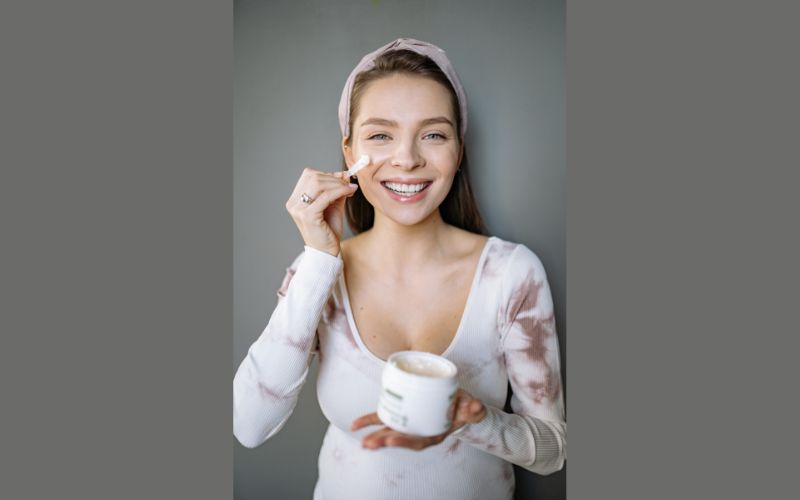 At night, add another layer of moisturizer to help lock in hydration while you sleep. During the day, apply a sunscreen with an SPF of 30 or higher to help protect your skin from further damage and prevent further acne scarring.
You should follow this skincare routine consistently, and it may take several weeks or even months to see significant results.
But by following a consistent, targeted skincare routine, you can help reduce the appearance of acne scars and achieve clearer, healthier-looking skin over time.
You can also read: Look Trendy With These 16 Tattoo Ideas For Women
Korean Home Remedies for Preventing Acne Scars
If you want  to opt for Korean acne scar treatment with home remedies, follow these tips:
Wash the face daily with rice water
Massage your face twice or thrice a week
Drink barkley tea to promote blood circulation and ad a glowing effect
Use muslin cloth and hot water for exfoliation
Hang some wet towels around your bed to have a natural humidifying effect or use an actual humidifier while sleeping in your bedroom.
Wrapping up on Korean Skincare,
Korean skincare products have proven to be effective in treating acne-prone skin and acne scars. Their holistic approach, use of natural ingredients, and innovative techniques like double cleansing and layering make them stand out.
With ingredients like vitamin C, retinoids, niacinamide, AHAs, salicylic acid, and kojic acid, Korean skincare products target different aspects of acne scarring, including inflammation, hyperpigmentation, and uneven skin texture.
By incorporating Korean skincare into their routine, people with acne-prone skin can achieve healthier, clearer, and more radiant skin.
You can also read: 15 Cute Summer Nail Designs
FAQs About Treating Acne Scars
1. How much time does acne scars take to completely fade away?
The time it takes for acne scars to completely fade away varies depending on the severity of the scars and the treatment method used. It can take from a few weeks to months, a year or more for scars to fade completely, and in some cases, they may never completely disappear.
2. How do you get rid of acne scars naturally?
There are some natural remedies that can help minimize the appearance of acne scars, such as using aloe vera, tea tree oil, honey, lemon juice, and baking soda. These ingredients have antibacterial and anti-inflammatory properties that help fade scars and promote skin healing.
3. What kind of food causes the most acne?
The relationship between food and acne is complex, but studies suggest that high glycemic index (GI) foods, such as sugar, white bread, and pasta, may contribute to acne. High GI foods can lead to increased insulin levels and inflammation, which can exacerbate acne. Dairy products and saturated fats may also contribute to acne.