When buying a new pair of shoes for men, we often focus on comfort, brand, and weight only and tend to overlook the color. Ask any man about what color he would like his new shoes to be, and he is more likely to say either black shoes or brown! We, men, seldom think beyond the traditional colors. But, there is more to shoes color than brown and black.
Whether it is formal office wear, casual wear, or family function, pairing right-colored shoes with your wardrobe makes all the difference in bringing out the best of your looks. On the contrary, pair your dress with the wrong color shoe, and you might end up looking like a clown at a kid's birthday party. Let's take a look at some of the famous shoe colors and how you can pair them with your wardrobe:
1. Brown Shoes
Brown shoes are available in many tones and add personality to your attire. They are less stuffy and forgiving. From a day at work to a romantic dinner, it can suit any situation. Here are some style tips to match them:
Brown shoes pair well with chinos of any color. If you are wearing brown trousers, make sure to keep at least two shades of difference between your shoes and trousers.
Lighter shades of brown shoes create a more relaxed and casual look.
Darker brown semi-formal shoes are the go-to choice with denim or washed-out jeans.
Avoid pairing brown shoes with a black suit or tuxedo for formal events.
2. Black Shoes
Black shoes for men are a must-have for any wardrobe and are probably the smartest shoes color. Follow these style tips to pair black shoes with your wardrobe:
From workwear to formal parties, black shoes are the go-to choice for black attire. They work well with charcoal or grey tailoring too.
Black casual shoes go well with chinos and denim.
Avoid pairing black dress shoes with shorts.
3. Blue Shoes
The refreshing blue color adds style, vigour, and personality to your looks. Although shiny blue leather often looks out of place, casual blue shoes work perfectly with several outfits.
Textured navy leather, when matched with black casual attire, creates a cool, dramatic look.
Navy blue boots are perfect for a casual look in denim for dinner dates or bars. Moreover, with dark colors, you don't have to worry about raindrops.
If you are pairing blue shoes with blue trousers or chinos, try to maintain a couple of shades difference between the two. Alternately, you can choose bright-colored socks for contrasting and breaking the monotone.
4. Oxford Shoes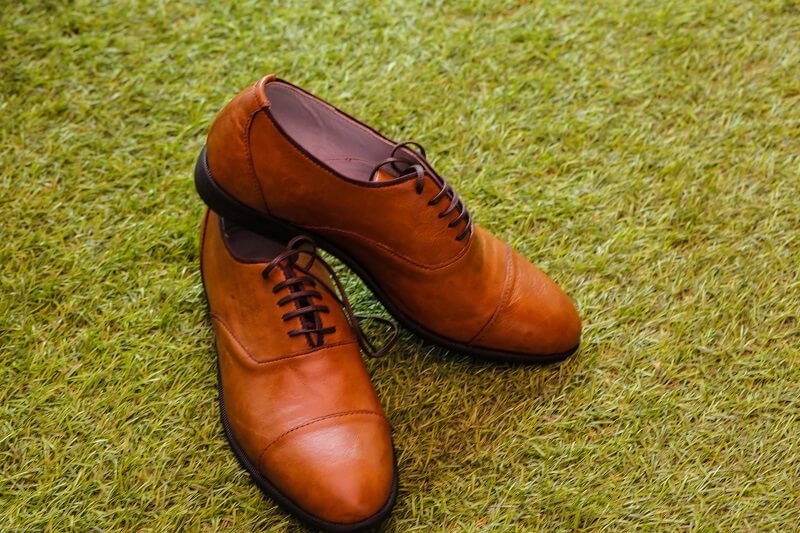 The classic Oxford shoes, characterized by lace-ups, date back to the 19th century. These shoes have three design elements; a low-heel closed lacing and below-ankle height. Over the years, Oxford shoes have evolved to suit different occasions, but they continue to be stylish, elegant, and proper.
From weddings to office, from funerals to black-tie events, cap-toe Oxford black shoes are versatile for any occasion.
Wingtip Oxford shoes, especially in brown shades, are suitable for casual attires like jeans, sports jacket, blazers, etc.
Saddle Oxford shoes, mixing cream colour with a navy saddle and red sole, create the most casual look with jeans, trousers, or chinos.
5. Dress Shoes
Typically contrasted to an athletic shoe, dress shoes for men are perfect for special occasions like dance, parties, etc. Traditionally, most dress shoes were made entirely from the leather for elegance and style. However, many modern dress shoes for men feature rubber soles for durability.
For everyday wear, you can consider a wide range of shoe colors like brown, blue, red, green, etc.
For business or office wear, dark shoes in black or brown color work well.
Derby-style shoes and loafers are a go-to choice with chinos or denim.
Blue dress shoes, when paired with a light blue suit, create a classy yet stylish look.
6. Monk Strap Shoes
Monk Strap shoe blends formal appearance with high-end fashion and class. This iconic silhouette replaces traditional laces with buckled straps. While one strap gives a formal look, the less formal, two-buckle style is popular for making a style statement.
Whether it is a movie date or a romantic dinner, monk strap black shoes create a lasting style statement.
As they are the most stylish amongst their competitors, avoid wearing them for business meets or job interviews.
Combine monk strap shoes with a business suit for an impressive, head-turning look.
What are the Different Shoe Toe Styles?
Now that you are aware of the main types of shoes and how to wear them, it's time to understand different toe styles. Just like colors, toe style can dramatically alter the appearance of your attire.
1. Cap Toe
A formal look found in several dress shoes for men. It features horizontal stitching that breaks the toe box into two segments.
2. Plain Toe
Probably the most formal toe option, the plain toe style does not contain any detailing or stitching on the toe box.
3. Split Toe
As the name suggests, it consists of a vertical stitch line in the middle of the toe box to split your toes.
4. Wingtip
Another popular shoe style in which the front of the toe box has details to look like wings.
5. Medallion
A minimalistic version of the wingtip, this style features a set of dots at the front of the toe box.
What are the Basic Rules for Shoe Color Selection?
Before you can attempt to break the rules, you must learn them first. Here are some tips for selecting shoes color for a novice:
Black and dark colors like brown or tan look sharp and versatile for any attire.
If you are wearing bright red casual shoes, balance them with a neutral dress.
No matter how pretty your shoes are, you will look shabby if scuffed. Keep them cleaned and polished for a good look and long life.
Summing it up:
A man's outfit is often judged from his shoes upwards. Of late, the expectations and requirements of footwear in men have become more flexible and less rigid. Gone are the days where anything other than elegant black shoes or brown shoes was not acceptable and frowned upon. As the once-monotonous shoes get colorful, finding a perfect combination to match your attire gets exciting as well as confusing.
From casual blue shoes to evergreen black shoes, from Oxford to Monk Strap, this article guides you through different shoe styles and color combinations. Additionally, it gives you tips to pair them with various attires for several occasions to avoid fashion blunders. Hopefully, by taking a cue from this comprehensive guide, you will be able to put your best foot forward for every event.